This Trendy Beauty Brand Is Coming Out With Exclusive Products For Target & They're Totally Insta-Worthy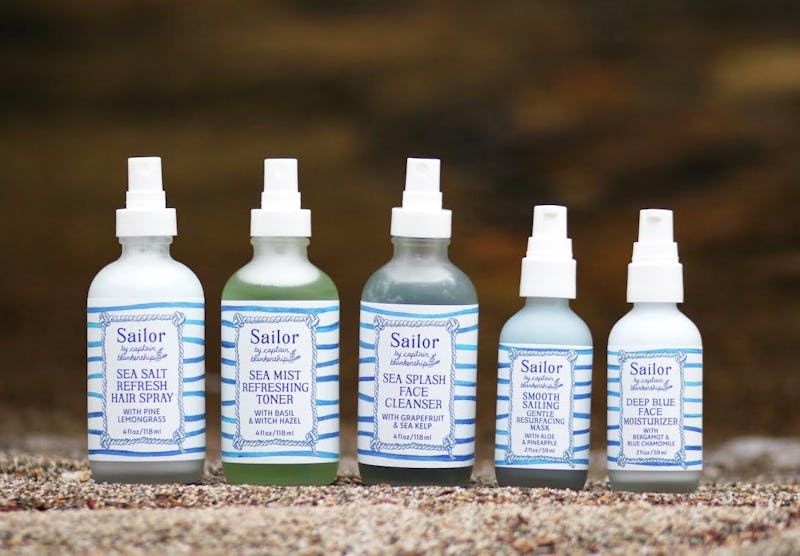 Captain Blankenship x Target
If you've been itching to update your Instagram with a fresh beauty product flatlay, then look no further then this new Captain Blankenship x Target collection. It will have you wanting to shrug out of your lumpy winter knits and instead slip into some boat shoes and yacht-approved bathing suit attire.
Created by the NY-based brand called Captain Blankenship, it's a skincare line that's all about the nautical stripes and sailor whites. Once you know the background of Jana Blankenship, the creator of the line, you get why there's such a heavy maritime vibe. She grew up spending every summer in the tiny coastal town of Sorrento, Maine, "running barefoot through the woods, riding in boats, exploring islands and swimming in the freezing, salty ocean. The smell of seaweed, ocean pine and wild roses enveloped her senses, casting a spell that still lingers." And linger it did. She felt her time by the water was like medicine for the body and soul, and wanted to cork some of that healing into skincare bottles.
With that, Captain Blankenship and its organic beauty products were born, where Blankenship uses cold pressed organic plant oils, flowers, seaweeds, sea salt, and organic essential oils to nourish and take care of your skin and body.
Women-run, the company is heavy into being all-natural and honest. They make their products with only organic and wild-harvested ingredients that are locally grown when possible. They never use synthetic preservatives, parabens, or sulfates, and they use recyclable and reusable glass packaging, protecting the sea that they love so much. They also test on themselves and friends, and never on animals.
So not only is this brand ethical, organic, and all-natural, but it's also really stinkin' cute. They have dreamy products like "Mermaid Dry Shampoo" which uses Rose Geranium essential oils to create a beachy rose scent in your locks, and "Sunshine Body Cream" which is made with organic cocoa butter and coconut oil, and makes you think of lying out on the beach. Then there's "Meteor Cosmic Freshening Spray" which is a "celestial scent shower" of essential oils that is meant to remind you of walking in the woods with a blanket of stars overhead. Not to mention the "Sail Away Bug Spray" which is adorable in its punny-ness. But these are all products readily available at Captain Blankenship; their Target collab brings a couple of products that are a little bit different.
Launching Jan. 21, the exclusive-to-Target line is called "Sailor by Captain Blankenship" and it looks the name would have you imagine: They're white bottles with wobbly blue stripes, pretty enough to slap all over your feed.
Mermaid Dry Shampoo, $18, Amazon | Sunshine Body Cream, $30, Amazon | Meteor Cosmic Freshening Spray, $25, Amazon | Sail Away Bug Spray, $25, Amazon
While their other products range from bug spray to essential oil spray, "Sailor" will mainly focus on skincare and hair care. It will include a cleanser, toner, mask, moisturizer, dry shampoo, and hair texturizer. These are grooming essentials to keep you "looking ship shape," and is meant to be a unisex collection.
The idea for this particular collab sprang up when the Captain Blankenship team found that their husbands and friends were using their brand products stocked in their bathrooms, especially those not found in the typical men's line. Liking the way they worked, the men began asking for more unisex scents and packaging, hence the new "Sailor" line. Infused with oranges, woody juniper, and the tangy brine of sea salt, it's a collection that will work for anyone. Below are the products you can enjoy.