Charlotte Tilbury Just Made 2 Additions To Her Cult, Best-Selling "Pillow Talk" Line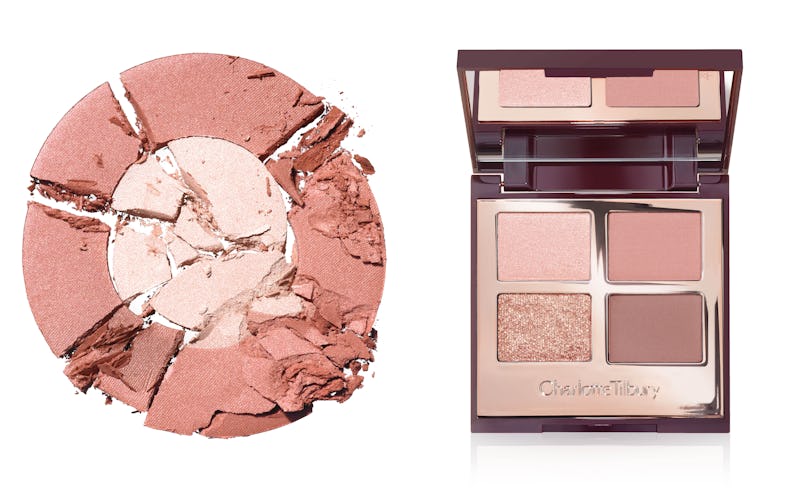 Charlotte Tilbury
Charlotte Tilbury lipsticks are my absolute kryptonite as a beauty person. From the pigmented reds to the deep berries and hot pinks, there's something about a Tilbury shade that sets my world on fire. But my absolute favourite has to be the legendary, bestselling Pillow Talk lipstick, which has now inspired an entire line of Pillow Talk products. So when's Charlotte Tilbury's Pillow Talk blusher and eyeshadow out?
Tilbury has been teasing these new products for a while now on her Instagram, but the truth is we really don't have long to wait as they launch exclusively on her website on September 6. The Pillow Talk range began with just a Lip Cheat liner, which was adored by industry insiders, bloggers, and celebrities alike for effortlessly defining lips. It was quickly formulated into a lipstick, which is now sold once every two minutes, according to the product page on Tilbury's website. The shade is a pink-toned nude which sits beautifully on a range of skin tones. The finish is matte, yet it sits comfortably on lips due to its creamy, cashmere-like texture.
Speaking about the cult shade and what inspired her, Tilbury said in a statement: "I wanted to alchemise that nude and pink, pout-perfecting pink that I used to mix by hand. I knew I could bottle a 'suits-all' hue that would mimic the delicate rose-blush-skin hue."
I'm definitely not surprised that this incredible lipstick and its side-kick liner have inspired two more products. Tilbury and her team have cleverly reacted to their audience's pleas to extend the range, and I'm sure it'll be a sellout. I remember working on the beauty desk in my former position when the announcement was made that there would be a Pillow Talk lipstick to follow the liner, and everyone went completely nuts for it. I can only imagine what two more products will do to the beauty community (I'm thinking a furore equal to that of a new Apple product in the tech community, or the latest Balmain x H&M collaboration for fashion... hold on tight).
On to the details of the new products. The first is a Cheek To Chic Swish & Glow Blusher, with a rosy outer rim and a pop of champagne highlight in the middle. The idea, much like with the other blushers in the Tilbury range, is to "swish" the outer shade with your brush and "pop" (or in this case "glow") the middle at the end for the perfect combination of colour and shimmer.
Next up is the eyeshadow quad, which features four shades inspired by the Pillow Talk colour palette. There are two mattes in a muted rose and brown, a slightly lighter shimmer, and a rose gold glitter. If this sounds like the perfect palette to you, that's because it most certainly is, my friends. "This Pillow Talk Palette gives you the ultimate supermodel look," says Tilbury. "The divine rose-bud pink, nude and taupe shades create the most dreamy, seductive and naturally gorgeous eyes." The blusher is set to retail at £30, while the quad will be £39.
Get. In. Line.