Here's When You Should Celebrate Galentine's Day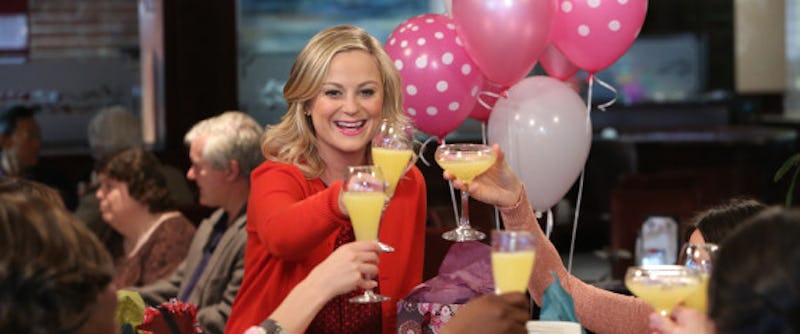 Thanks to the imagination of Amy Pohler's character on the show Parks & Recreation, Leslie Knope, a very special holiday has been born. As we head towards Valentine's Day, you're going to want to know when Galentine's Day 2017 is, because let's be real, it's the best holiday that's not on any calendar. I mean seriously, if we can have a National Soup Day and a National Yarn Day and a National Sloth Day, we can most certainly observe a faux TV show holiday that encourages us to show our besties some major lovin'!
Valentine's Day is great and all, but it's not for everyone. And if you're not in a relationship, the holiday can feel like a total bummer. This is exactly while Amy Poheler's character, Leslie Knope, on Parks & Recreation created the holiday in an episode that aired in 2010. It occurs every year on Feb. 13, one day before Valentine's Day, and it's a time for gals to get together and celebrate their platonic love. I mean, is there anything more adorable and heartwarming than a holiday that calls for the celebration of friendship? Perhaps only National Kitten Day could possibly rival the cuteness.
And maybe more importantly, I have to wonder: how was there not already a holiday like this? We could all use a day to tell our friends how much we love them and put some energy into sharing our friendly feelings for each other. As our lives get busier and messier and fuller, it can be hard to make time for our friends. That's why Galentine's Day isn't only a fun holiday, it's a totally necessary holiday.
So this year, if you're not already in the habit of celebrating, make this the year that you add Galentine's Day to your calendar — it definitely scores high on the list of faux TV shows that made it from the screen to IRL, like everyone's The O.C. favorite, Christmakkah — it's also now just at ubiquitous.
You can really celebrate it any way you want — there are no rules. You can have a party at your house where everyone brings a dish, you can get all your gals to meet for brunch and exchange gifts, or you can have a night out. Just pick something that everyone will enjoy and make sure everyone leaves their partners at home. This holiday is about friendship and friendship alone. Everyone's got Valentine's Day to spend lovin' on their lovers. You and your friends can afford to spend one day showing your gratitude for your relationships with each other.
So mark your calendars for Feb 13. — if it's not already your favorite holiday, it's about to be.