This New Horror Anthology Will Make You Afraid On Every Holiday — Not Just Halloween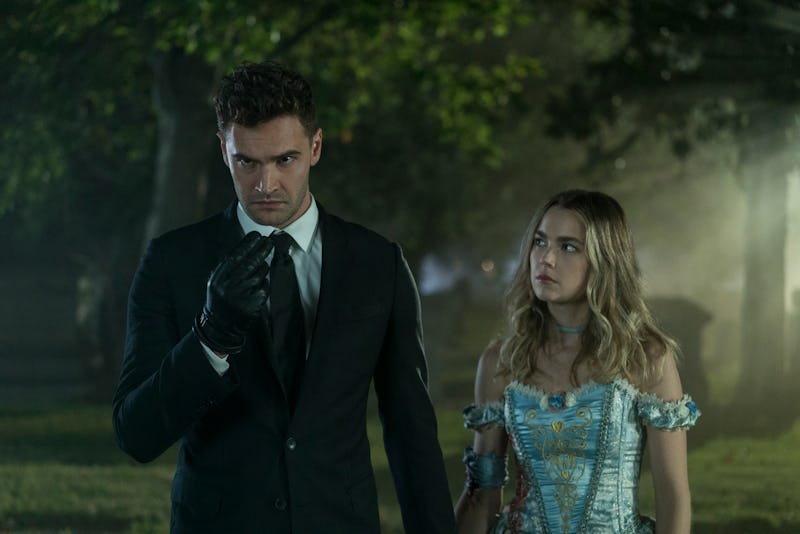 Richard Foreman/Hulu
The holiday season is finally here, and so is the first installment of Hulu's horror anthology series. Into the Dark premiered Friday, Oct. 5; however, audiences can only watch the first episode. It's a brand new format, and it might be hard to keep up with when Into the Dark is released. Chapters will drop monthly for a year — what's more, they'll all be based on specific holidays. So although audiences will have a bit of a wait before Episode 2, its first movie-length episode, "The Body," centers around Halloween.
This spooky chapter follows a mysterious hitman, Wilkes (Tom Bateman), who comes into contact with Maggie (Rebecca Rittenhouse) and her friends while dragging a body around during a Halloween party in Hollywood. The catch? No one notices because they assume he's in costume. "One of our guests is trying to kill us!" someone screams into the DJ's microphone in the trailer. However, the other partygoers cheer, thinking it's a bit.
Into the Dark was co-written by Paul Fischer and Paul Davis (who also directs). As for why they decided to start the anthology with "the Body," Davis told Syfy Wire, "I think mostly because it's starting in October. It gives people a taste of what's to come; we give a little bit of comedy, there's horror in there, there's drama. We essentially wanted to give you the kitchen sink. And you've got all this to come for another year."
As for where his inspiration for "The Body" came from, Fischer told Syfy that he first had the idea while watching Shallow Grave on Halloween. This 1994 thriller follows three people who come across their dead roommate and his suitcase full of cash. The trio attempt to dispose of the body and keep the money for themselves. Naturally, things do not go as planned. "Oh, if they tried to do that tonight, I wonder if anybody would even care… or notice?" Fischer recalled thinking as he watched the movie.
"The Body" consequently became a 2013 short film, which starred Game of Thrones' Alfie Allen. And thankfully for fans of the original, it's been expanded into a full-length movie on Hulu. "We're kind of playing with Hollywood culture, and with Halloween movies, and Halloween generally, and the idea that yeah, this guy's charismatic, but he's also a psychopath," Fischer continued in the same Syfy interview.
Into the Dark is produced by Jason Blum's television studio Blumhouse Television. For the uninitiated, Blum has produced movies such as Get Out, Paranormal Activity, and the upcoming Halloween remake, among others.
"At the heart of the deal is an extremely passionate audience and an extremely activate-able audience in terms of horror," Hulu chief content officer Joel Stillerman told Variety of the anthology. "It's not even the larger bucket of 'genre.' I would say this falls squarely into the horror bucket. And it's brought to us by, I would say in many ways that would be hard to argue, the consummate producers in that genre today."
What's more, this monthly release schedule allows audiences to fully digest each installment of Into the Dark before diving into another. "If this is the first one, and you get 10, 11 other ones that are in the same vein, that are beautiful, they're well made, they're smart, they're anchored on something, and they're just a really, really fun 90 minutes that you can count on every four weeks," Fischer told Syfy. And while there hasn't been much information released about the 11 succeeding episodes of the anthology, its second installment is titled "Flesh & Blood" and premieres Nov. 2. After all, Thanksgiving is just around the corner.