Kim K Just Hinted At Her Next KKW Beauty Product & It's Everything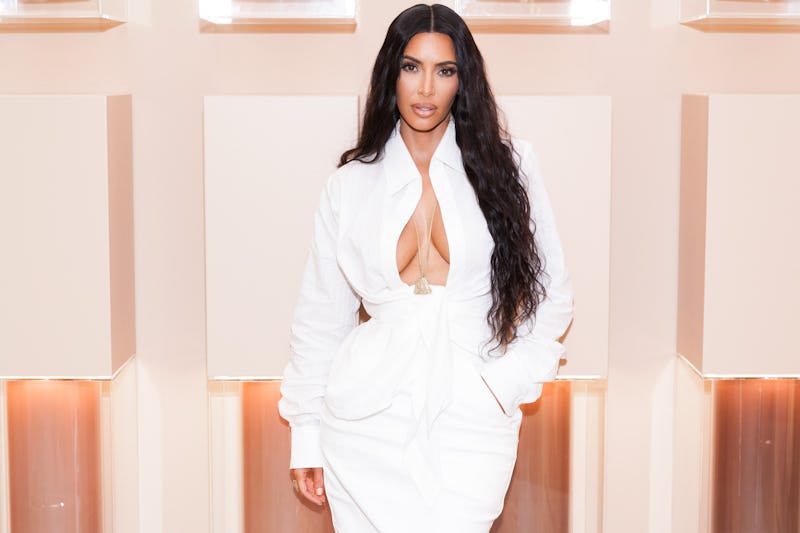 Presley Ann/Getty Images Entertainment/Getty Images
Ask and ye shall receive — sort of! A fan inquired what eye makeup Kim Kardashian West was wearing via Twitter and the mogul and reality superstar not only replied. She also dropped a huge bombshell about her next KKW Beauty product. KKW Beauty is dropping another eyeshadow palette and its namesake and creator was (presumably) rocking the shades on her lids. She commented that she shot a campaign for her new eye palette "coming out real soon."
Eeep! How soon is TBD.
KKW Beauty's first eyeshadow palette is a collab with Kardashian West and her longtime makeup artist Mario Dedivanovic. It's a 10-pan palette packed with shimmery 'n' matte neutrals, the most gorgeous cobalt blue, and more. It has regularly sold out via the brand's website, which is its main sales platform.
Judging from the pic of Kardashian with thoroughly smoky (and blended) eyes, the second eyeshadow palette might feature pinks and grays.
While Kardashian confirmed a second eye palette is on the way, curiosity doesn't stop there. We have theories about whether or not this is KKW x Kylie Cosmetics, V. 2.0. Remember, KKW Beauty launched as a creme liquid lipstick quadrant in four nude hues. It was a collab with her little sister Kylie Jenner's already-existing and mega popular Kylie Cosmetics.
Jenner recently dropped a hint about an encore to the KKW kollab and fans are connecting the dots.
Here's the revelatory tweet where KKW confirmed a new palette. Yes, it can stand alone and is enough to get makeup mavens super stoked.
Here's Jenner's Insta post. It was a throwback to their campaign. But the caption also asked if fans want Round 2. Something tells us that's not an informal poll or a query to see if fans are into the idea of KC x KKW II. Something tells us that's a hiding-in-plain-sight hint about something they are already working on.
These are the necessary nudes from the KKW x Kylie Cosmetics power collab. It would make complete and total sense for the separate but beloved brands to collide once again but in a totally new way. They mastered creme liquid lippies in a variety of nudes. Why not try something different — like an eye palette— for their next mashup? We'll have have to wait and see if these two teases are related or if they were merely a coincidence.
Fans are already all in.
They think it looks bronzy, glam, and...
... Beyonce-like.
Ahem! The four lippies are a collab with her baby sister for KKW Beauty. But is this Part 2? Perhaps.
For refresher purposes, this is the KKW x Mario palette. It's packed with pops of colors along with goes-with-everything neutrals.
Because #swatches.
This is Kylie Cosmetics' most recent eye palette. The Sorta Sweet palette is absolutely loaded with bronzy goodness. It could very well be Jenner's most wearable palette to date.
These are all the tools you need to achieve a bronzy, Olsen Twin-approved smoky eye.
More eyeshadow goodness is on the way from Kim Kardashian's cosmetics brand. While we are left to speculate and piece together clues regarding the specifics, there are still plenty of other products to shop in the meantime.
The collection of nude lippies has also been applauded for offering eight nude varietals. Not all nudes are created equal and what's nude to one person's eyes based on their experience and skin tone is entirely different from someone else's perceptions. This lippie range totally understands that concept.
Here's hoping that the nest KKW palette gets here quick and that the Kim x Kylie reprise is a real thing and not just a tease.