Lana Del Rey Has Pulled In This HUGE Hitmaker For Her New Album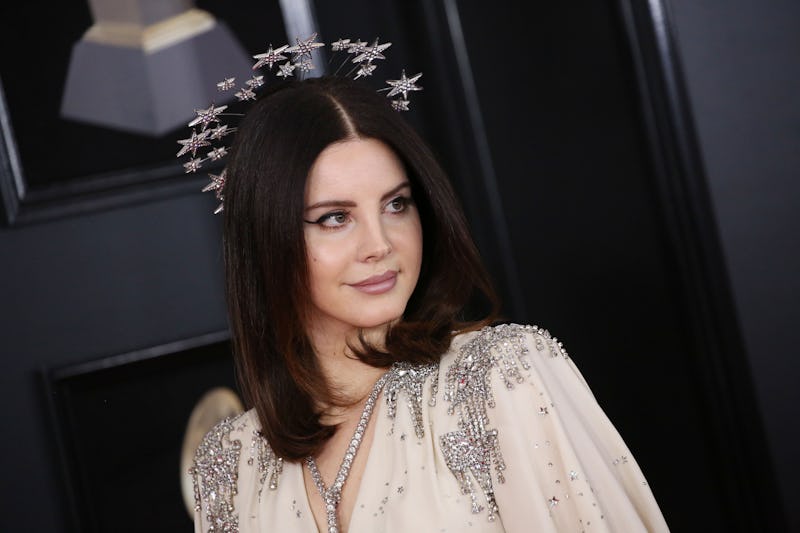 Matt Baron/Shutterstock
When Lana Del Rey first emerged with her viral hit "Video Games," her critics — and there were many — laid it on thick. She was unfairly accused of being an inauthentic industry plant, who only made it big because of her father's money, as Digital Spy reports. These critics also spent more time speculating about her appearance over her actual music. Today the conversation has shifted, with more people now seeing Lana for what I think she is — one of this generation's most fascinating talents. With that in mind, there are more than a few people wondering when the next Lana Del Rey album is out, and reassuringly, it looks pretty imminent.
Fans have been anticipating new music from Lana ever since she posted photos of her posing with Reputation producer Jack Antonoff. He's a favourite of Taylor Swift, and also worked with St. Vincent and Lorde on their albums. Del Rey is the next pop star to be given the Antonoff treatment, with the singer confirming as much when she appeared on Annie Mac's Future Sounds show on Sept. 12. "We've been working since December," she told Mac. "We have a collection of songs that I've sequenced and I really love." It's due out in the "top end of 2019," she added, after she releases her own book of poetry.
The first taster of the next album was premiered on Mac's show. The single "Mariner's Apartment Complex" was given Hottest New Record status by Mac, and the wistful, Leonard Cohen influenced song came accompanied by a music video made by Lana's sister, Caroline Grant. The song sounds powerful, as she sings assertively: "I'm your man." "It posits a Lana Del Rey who is not only a fully rounded character but also a port in a storm," Pitchfork's Marc Hogan wrote in his review of the single.
The second single, a sprawling, nine minute odyssey of a song called "Venice B*tch," should equal the success of the first single, which landed straight in the iTunes top 10, as Consequence Of Sound reported. She premiered the single on Zane Lowe's Beats 1 show on Sept. 18, and confirmed that the album's working title is Norman F****** Rockwell.
It's unclear if there'll be any more singles from Del Rey, and you can only make a guess at how long you'll have to wait for the follow up to Lust For Life. But in the meantime, it's always well worth revisiting her back catalogue. It's pretty astonishing how much ground she's managed to cover in a relatively short span — from the hip-hop influences of Born To Die, the narcotic rock of Ultraviolence, through to the cinematic opuses of Honeymoon and Lust For Life.
But now it's time to welcome the next iteration of Lana Del Rey. And if the first two singles are anything to go by, it sounds like Norman F****** Rockwell may be her most accomplished and groundbreaking work yet. Watch out 2019: Lana Del Rey is coming for you.