Little Mix Have Roped In These HUGE Names For Their 'Glory Days' Follow-Up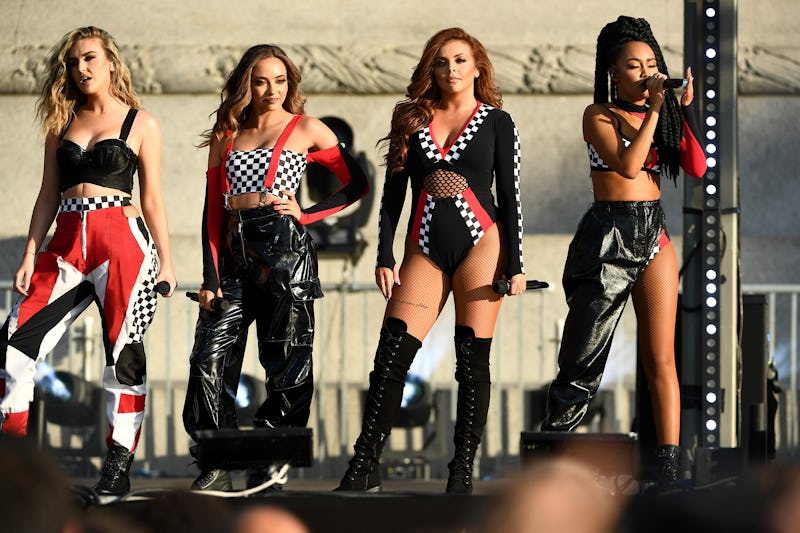 Ian Gavan/Getty Images Sport/Getty Images
Little Mix can always be relied on to deliver the bangers. They released their last album Glory Days back in 2016, which was wall to wall bops, as always. They've released a smattering of smash-hit singles since, but now fans are eagerly awaiting album number five. The best girl group on the planet have been hinting at new music for a while, but I'm going to need some some specifics. When will Little Mix's new album be out and will their fifth effort be their best?
As Heat reported back in April, the girls' last album Glory Days smashed records, knocking the Spice Girls off of top spot after it spent longer in the Official UK Top 40 album chart than any other album by a girl group ever before. But will album number five break their own record? Heat reports that the Little Mix girls Jesy Nelson, Perrie Edwards, Leigh-Anne Pinnock and Jade Thirlwall are set to release the new album sometime this year. At the end of August, Thirlwall told Manchester Evening News that the new album is due for release sometime in November, and that it will honour the group's LGBT fans.
"We have a lot of LGBT fans and it's really important for us to encourage them to be who they are and to celebrate that through our music," said Thirlwall. She also got the buzz going when she said, "This is definitely my favourite album, you can tell it's come from us." So expect bops aplenty. It seems as though recording wrapped up sometime in August, as Thrilwall posted "Two more days in the studio" on her Instagram story on Jul. 30, according to the Metro reported.
Pinnock was the first one to confirm that new music was on the horizon. Speaking to Red Carpet News TV at the Mental Health Valentine's Day Gala, she told Capital FM: "So we've got the new album coming out this year which is really exciting." She then mapped out a timeline of the album and tour. "We start writing it... basically, March, when we get back to work. Then the tour will follow the following year. Basically, we've got our lives planned out for the next two years, but it's great," she said.
Little Mix are all about raising girls up and empowering them to dance, and their fifth album will be no different. "We love inspiring people with our music. That's what we do. Definitely more girl power. Definitely more of that sort of inspirational message that we love to do," Pinnock assured Capital FM.
And the Little Mix bandmembers aren't just spreading the love to their fans but within the industry too. "Decline" singer Raye told the Daily Star earlier this year that she'd been working on the group's new music. Speaking during a chat about the male dominated music business, she said, "The Little Mix album, I've been writing for that. I think it's really important that girls have started to support each other more, all becoming friends, and it's like a community. It's so important." Then Now reported that they are also teaming up with Nicki Minaj too.
Hell yes, ladies. What an inspiring group of gals.