Major Makeup Brands Are Coming To Target & You'll Actually Feel Like You Walked Into Sephora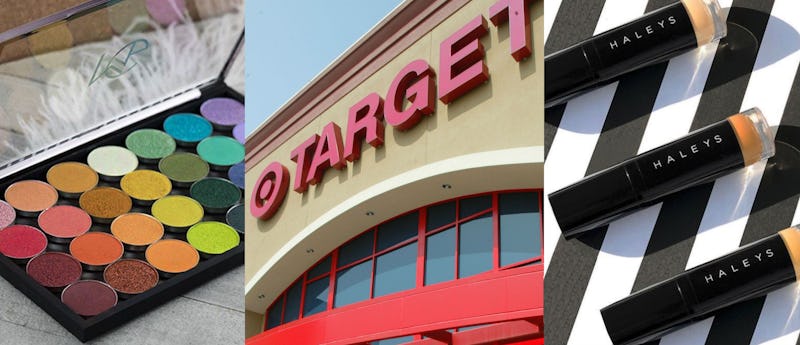 Makeup Geek Instagram/Alex Wong/Getty Images/Hayleys Instagram
Target has been on fire lately with revamping their whole makeup aisle experience, and they are no where near ready to slow down. There's a bevvy of new makeup brands coming to Target, and they're going to make you feel like you're walking through the aisles of Sephora.
Earlier last October Target rolled out a whole new design plan for their makeup section, making it feel less "drugstore" and more "boutique." Upgrading the lighting, creating a more open floor plan, incorporating more service counters, and installing trained professionals to help you find just the right foundation shade or answer your questions on contouring techniques, the big box store has taken its customers' passion for cosmetics seriously.
When the updates happened, Mark Tritton, Target's executive vice president and chief merchandising officer, explained, "The new design in beauty pulls you in. It's a specialty environment that invites you to shop."
But makeup recommendations and white, airy shelving aside, one of the biggest appeals of stores like Sephora and Ulta is their wide range of indie makeup brands and out-of-the-box products. And Target is beginning to stock more and more of these niche labels, as is evident with their newest beauty brand roll-out. Under the radar products are going to get a bigger spotlight, and poking through their shelves is about to become a whole lot more interesting.
According to the beauty news Instagram account, Trendmood, a ton of new indie cosmetic brands are coming to Target this season. While the details haven't been confirmed yet, you can expect to see Makeup Geek Cosmetics, Coloured Raine Cosmetics, Violet Voss, The Lip Bar, Haleys Beauty, Hue Noir, and Every Hue Beauty on shelves soon.
In case you haven't heard of all of these niche brands, let's explore who they are. Makeup Geek Cosmetics is a cruelty-free brand that not only sells you mid-range priced products, but also has a ton of tutorials on their site to help you learn techniques if you're a beginner, or expand your skills if you've already been playing with brushes and palettes for a while.
Coloured Raine Cosmetics is a cruelty-free, black-owned brand which champions self-expression and diversity, and especially focuses on bringing beautiful shades to women of color. The owner, Loraine R. Dowdy, believes that makeup is a toy for grownups, so her collections, palettes, and colors are all super playful, intensely pigmented, and experimental.
Violet Voss is a bigger brand who's claim to fame is pigmented eyeshadows, megawatt highlighters, 3D faux mink lashes, and an impressive assortment of glitters. Their prices are mid-range, where palettes usually clock in around $45 and pots of glitters are $9.
The Lip Bar is another black-owned business that is both vegan and cruelty-free, and challenges beauty standards through its products, inclusive imagery, and pricing (meaning you don't need to be rich to be beautiful!) Just as the name suggests, The Lip Bar is all about lip products, providing you with liquid and cream lipsticks, as well as lip glosses.
Based out of San Francisco, Haleys Beauty is both vegan and cruelty-free and all about complexion makeup. Focusing on primers, foundations, and pressed powders, it's a luxurious but mid-range makeup brand.
Hue Noir is a black owned beauty brand which uses science and technology to create innovative makeup that fits all the different nuances in skin tones. They put multicultural women at the center of the beauty movement, making sure they don't exclude any type of skin tone or shade.
Every Hue Beauty is a makeup brand that serves people of all skin tones, but especially doubles down on creating different tones for darker complexions.
Not only is Target bringing us exciting indie brands, but it's also propelling black owned businesses to the forefront, making sure it caters to its diverse set of customers. Suffice it to say shopping at Target is about to get a whole lot more tempting.