Meghan Markle's Final 'Suits' Episode Could Feature A Wedding Of Its Own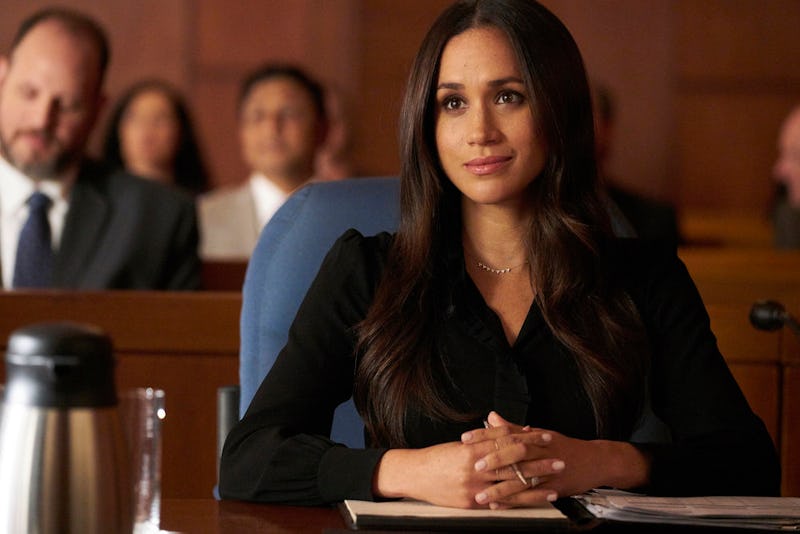 Ian Watson/USA Network
Meghan Markle has a highly-anticipated wedding to Prince Harry coming up on May 19, but before that, the actor has another long-awaited event happening. The last eight episodes of Suits Season 7 premiere on Wednesday, March 28 and Meghan Markle's final Suits episode will air as the two-hour season finale on Wednesday, April 25, according to Entertainment Weekly.
Markle has played paralegal-turned-lawyer Rachel Zane since the series' premiere on the USA Network in 2011. Per The Hollywood Reporter, actor Patrick J. Adams, who plays Rachel's love interest Mike Ross, is also exiting the series at the end of Season 7. Suits will, however, live on without Markle and Adams' characters, since the show was renewed for Season 8, in which Katherine Heigl will join the cast. In a March 23 interview with Variety, creator and executive producer Aaron Korsh said that he prepared for the possibility of both Markle and Adams leaving the series while the episodes were in the process of being written.
Korsh said:
"We didn't have to change things last minute because I made a decision early on — I don't remember exactly when in the season, but Meghan's relationship looked like it was going well. And if that was the case, I guessed that if she married a prince that she wasn't going to stay on the show. So we decided, in our hearts, to bank on her finding love and kind of having a fairy tale ending in her own life and assuming that good things were going to happen for her."
Much like Markle, Rachel is engaged and may even finally marry Mike in the pair's final Suits episodes. Korsh did not confirm to Variety that a wedding will happen, but he did tell the publication, "There is no doubt that we are going to honor the relationship of Mike and Rachel before we send them off."
Per the previously mentioned Hollywood Reporter article, Adams also did not confirm nor deny that there will be a Suits wedding for Mike and Rachel. He told the publication in January: "Without spoiling too much, yes, I think Mike and Rachel are two characters that there has never been any question that they're in love and that they're meant for each other and that they're willing to go to great lengths and sacrifice a ton in order to keep their relationship going."
Adams told The Hollywood Reporter that he and Markle didn't plan to leave Suits at the same time, but it just seemed to work out that way for both of them. "With Meghan, a lot went unsaid," he told the publication. "In some ways, Meghan and I were the closest because we were the youngest people in the cast and both came in with the least experience. We grew up together over the course of the show. There was this natural sense that we both knew that the time had come for both of us."
When Suits premiered in 2011, Mike was a college dropout with a photographic memory and a talent for acing the LSAT exam (for other people), despite not attending law school. He impressed Harvey Specter (played by Gabriel Macht) and Mike unwittingly got a job as an associate attorney at Specter's law firm, again, despite not attending law school. Rachel was one of the firm's paralegals and an aspiring lawyer herself. Mike and Rachel were drawn to each other, even as Mike's lack-of-law-degree secret loomed. After several seasons of detours, obstacles, and drama, Mike and Rachel are both licensed, practicing attorneys in Season 7 — and perhaps the couple will finally get their happy ending before they leave the world of Suits for good.