Michelle Obama Is Releasing A Memoir Later This Year, So Mark Your Calendars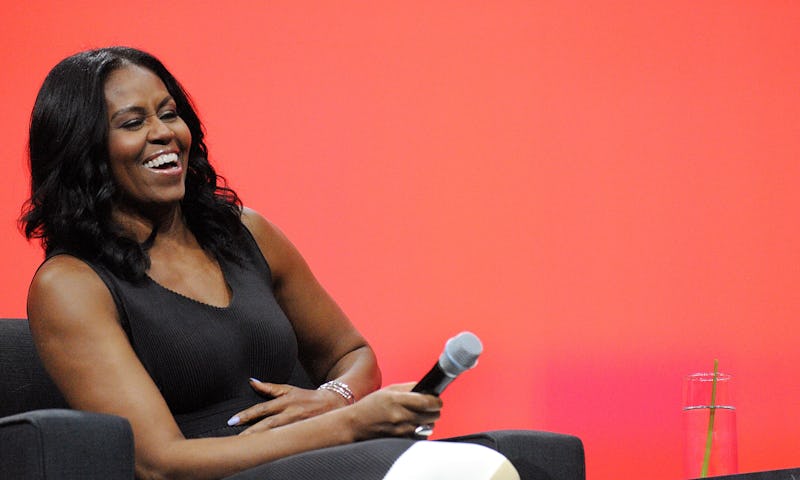 Gerardo Mora/Getty Images News/Getty Images
If you, like many Americans, have spent the last year in a state of near-paralyzing grief over the absence of President Barack Obama and his family from the White House, you're in luck: Later this year, Former First Lady Michelle Obama is releasing a book, and it'll hopefully ease a bit of your sorrow until 2020. So when is Michelle Obama's memoir coming out? Becoming will hit bookstores on Nov. 13, 2018, just a week after the midterm elections. The book will be released simultaneously in 24 languages, as well as in audiobook format, on the same date.
In a press release provided by Becoming's publisher, Penguin Random House, Michelle Obama said, "Writing Becoming has been a deeply personal experience. It has allowed me, for the very first time, the space to honestly reflect on the unexpected trajectory of my life. In this book, I talk about my roots and how a little girl from the South Side of Chicago found her voice and developed the strength to use it to empower others. I hope my journey inspires readers to find the courage to become whoever they aspire to be. I can't wait to share my story."
Becoming by Michelle Obama, $23, Amazon (Pre-Order)
Becoming will chronicle Michelle Obama's journey from childhood — in the South Side of Chicago — to college — at two prestigious universities: Princeton University, then Harvard University — and finally to the White House. Hopefully, the memoir will be packed with sweet anecdotes about her relationship with President Barack Obama, too. And of course, it promises to brim with her signature brand of down-to-earth warmth and playful confidence. According to the publisher, "Becoming is an unusually intimate reckoning from a woman of soul and substance who has steadily defied expectations—and whose story inspires us to do the same."
Luckily, the former First Lady isn't the only Obama with a memoir on the horizon. She and her husband sold the rights to their memoirs to Penguin Random House in a joint deal that is rumored to have exceeded $65 million. President Obama's memoir has yet to be announced, but based on his former books — including The Audacity of Hope and Dreams of my Father — you can be sure that whatever he releases will be the exact perfect combination of gut-punch realism and rousing idealism that you'll need to get through the next few years of the Donald Trump administration. Until then, you have Michelle Obama's words to help guide your way. Becoming is available for pre-order now.