Here's When You Can Catch The Olympics Snowboarding Events On NBC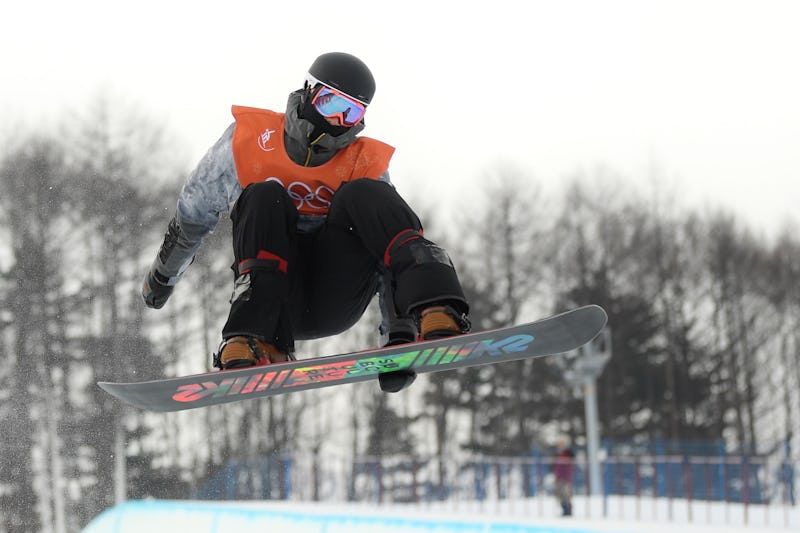 David Ramos/Getty Images Sport/Getty Images
The Winter Olympics have arrived, and it's hard to keep on top of all the events in store. For fans who want to know when to watch 2018 Olympics Snowboarding on NBC, there's a handy schedule that will make sure you don't miss a moment. Snowboarding events will be beginning on the first full day of the 2018 Winter Olympics in Pyeongchang on Feb. 10 and will continue until Feb. 23. Taking place at the 18,000-seat Phoenix Snow Park, men and women will compete in five events each (halfpipe, slopestyle, big air, snowboard cross, and parallel giant slalom), so you're definitely going to want to know when to tune in.
It's worth noting that all snowboarding events will be aired on NBC and NBCSN, and almost all of them will be broadcast live. Events are also available to be streamed live via the NBC Sports app. With 26 US athletes ready to compete in snowboarding events, the sport is the perfect one to enjoy with a certain sense of patriotic pride. Especially since Olympic halfpipe veterans Kelly Clark and Shaun White will be returning to claim another gold medal for themselves while slopestyle-maverick Jamie Anderson will be vying for her second gold.
Sounds good right? So when exactly can you catch all of this snowboarding magic in action? All times are in Eastern Standard.
Feb. 10 & Feb. 11: Slopestyle
Still a fairly new event, slopestyle consists of a terrain-style course featuring a combination of jump and rails for tricks. Coverage of the Men's Slopestyle event will be aired on NBCSN between 7 and 9:45 p.m. with the actual event scheduled for 9:04 p.m.
The following day, coverage of Women's Slopestyle can be enjoyed between 7 and 11 p.m. on NBC and 8 and 11:30 p.m. on NBCSN with the actual event taking place at 9:05 p.m.
Feb. 12 & Feb. 13: Halfpipe
The event you're likely the most familiar with will be the halfpipe. Riders traverse back and forth across a U-shaped course and perform tricks up a 22-foot wall of the pipe. It's pretty impressive and consistently full of huge wow moments.
On Feb. 12 Women's Halfpipe will take place at 9:00 p.m. with NBC airing full coverage between 8 and 11:30 p.m. NBC will also show coverage of the Men's Halfpipe on Feb. 13 between 8 and 11:30 p.m. with the main event scheduled for 9:30 p.m.
Feb. 15: Snowboard Cross
A high-energy event which follows six athletes as they race through a tricky course full of rollers, jumps, and other obstacles, on Feb. 15 NBC will be showing full coverage of the Men's and Women's events between 8 p.m. and 1:30 a.m.
Women's Snowboard Cross will take place first at 10:56 p.m. while the Men's Snowboard Cross will follow at 12:45 a.m.
Feb. 22 & Feb. 23: Big Air
This jaw-dropping event features athletes launching themselves from a giant ramp and performing a single trick in mid-air. Coverage of the Women's event will take place on Feb. 22 between 8 p.m. and 12 a.m. on NBC with the event scheduled for 10:30 p.m. Meanwhile, the next day Men's Big Air will be covered on NBC between 8 p.m. and 11 p.m. with the event due to take place at 9 p.m.
Feb. 23: Parallel Giant Slalom
The final and most competitive event, Parallel Giant Slalom, follows two riders as they are pitted against each other in a side-by-side race through a series of gates. Men's and Women's Parallel Giant Slalom can be enjoyed with full coverage on NBC between 11:35 p.m. and 1 a.m. with the main event scheduled a little earlier than broadcast at 10:58 p.m.
Fun fact: The US snowboarding team currently has 24 winning medals, which is twice that of our nearest snowboarding competitor, Switzerland. So you might want to leave your evenings free for a while, get yourself comfortable, and prepare your finest Stars-And-Stripes foam finger as you cheer the men and women's snowboarding teams on at this year's Olympics.