Here's When Fans Can Expect Sarah Drew's Last Day On 'Grey's Anatomy'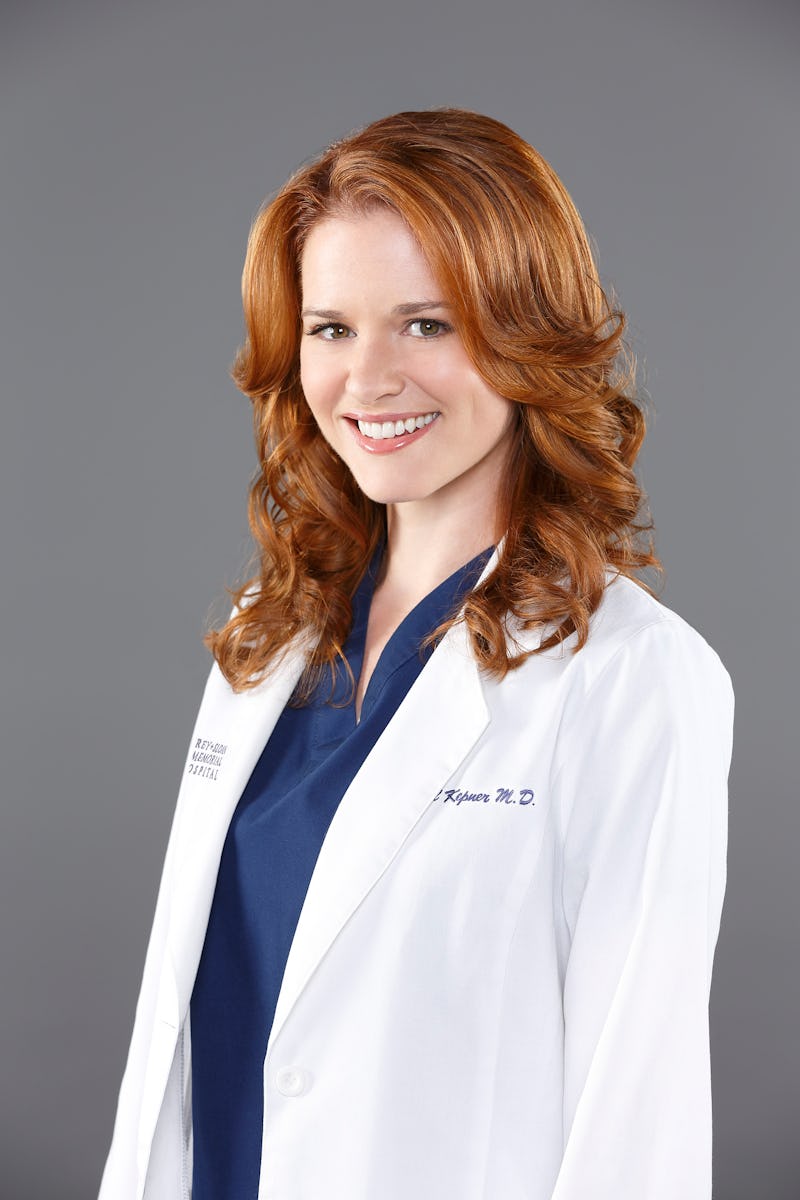 ABC/Bob D'Amico
Grey's Anatomy fans everywhere are sure to be shocked by some recent casting changes. According to TVLine, Sarah Drew is leaving the ABC staple after nine years with the series. This begs the question: When is Sarah Drew's last Grey's Anatomy episode? Her last episode on the series may come sooner than you think.
According to Deadline, Drew, who portrayed Dr. April Kepner, will hand in her scrubs at the end of Grey's Anatomy's current 14th season. This means that the actor's last episode of the series will most likely be sometime in May, which is when the season finales of the show usually air.
The creator and executive producer of the show, Shonda Rhimes, related in a kind statement that Drew (and Jessica Capshaw, who was also let go from the show, per Deadline) will always be a part of the "Shondaland family," even though she's leaving the series. She said in a statement:
I will be forever grateful to both Jessica and Sarah for bringing these characters to life with such vibrant performance and for inspiring women around the globe. They will always be a part of our Shondaland family.
The co-showrunner of Grey's Anatomy, Krista Vernoff, related that the casting change-up was due to creative reasons her a statement, according to Deadline.
Drew has been a part of the medical drama for nine years now, after having joined the cast during Season 6 in 2009. The actor frequently shared scenes on the show with her on-and-off love interest, Dr. Jackson Avery (Jesse Williams). April and Jackson went through a lot on the series: a quickie wedding, divorcing, and even welcoming a daughter, Harriet, together.
In a statement on Twitter, Drew described how she was feeling in regards to leaving the series. She told her fans that she was still trying to process the information herself, as she had only recently received the news less than 48 hours before it was revealed to the public. She said that she would make a full statement on the matter at a later date, but that she was grateful to all of her fans, and Grey's Anatomy co-stars, for their love and support. She also tweeted out her thanks to Rhimes for giving her the opportunity to be a part of the ABC staple for almost a decade.
As previously mentioned, Drew isn't the only long-time cast member who's leaving the series in this recent shake-up. Capshaw, who portrayed Dr. Arizona Robbins, is also leaving Grey's Anatomy at the end of Season 14. Capshaw portrayed Robbins on the show for ten seasons starting in Season 5 in 2008. Robbins was one of the first LGBTQ characters to be represented in a consistent series regular role on network TV, as the actor noted in her Twitter statement regarding the news.
Elsewhere in Capshaw's Twitter statement, she related that while she was sad to leave the series, she was comforted by the fact that her character "will continue to live on" in the hearts of many.
This casting news is sure to come as a shock to many Grey's Anatomy fans out there, as is already evidenced by the outpouring of heartbroken responses on social media. Drew's April and Capshaw's Robbins have been fixtures on the medical drama for nearly a decade now and have subsequently amassed a ton of fans. So, it's only reasonable to expect that those fans would be taken aback by this surprising news. And now, Grey's viewers everywhere will have to unfortunately come to terms with saying goodbye to the fan favorites when the 14th season of the show wraps in May.