Why Fans Might Have To Wait For Season 4 Of 'The Expanse' After The Sci-Fi Drama's Amazon Revival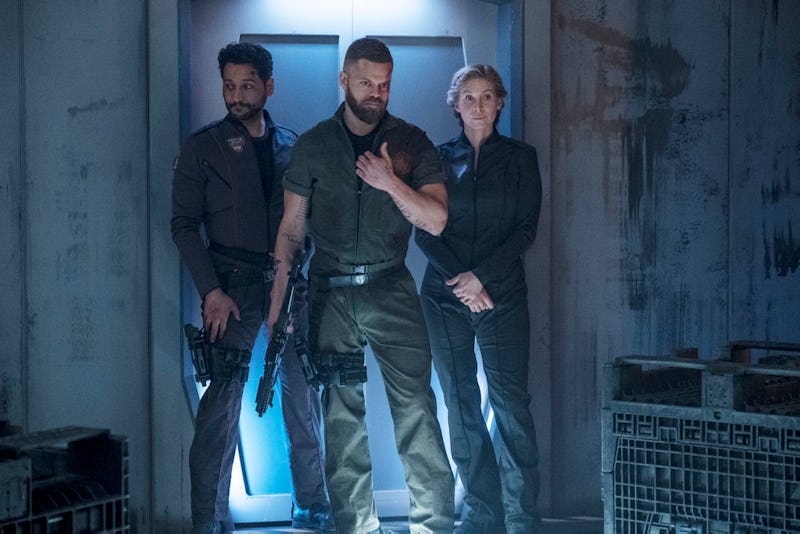 SyFy
Life on Mars will continue after all. After three seasons on cable television, the Syfy space war drama The Expanse was given the axe on May 10. Since then, support from the show's fans has helped it find new life: The series has officially been renewed by Amazon for Season 4, which will be streamable. That's right — not only will the sci-fi favorite return, but it is now marathon material. So, when is The Expanse Season 4? A premiere date has not yet been announced, but one thing is for sure — fans and The Expanse cast members alike can't get enough of the show's revival.
The Expanse, based on the New York Times bestselling eight-part book series co-written by Daniel Abraham and Ty Franck under the pen name James S. A. Corey, is set in a fully colonized solar system on the brink of war. There are three main parties that make up this narrative — Earth, Mars, and the asteroid belt — and their biggest mission is universal peace. Just like Rome wasn't built in a day, though, universal peace wasn't achieved in three seasons, so it only makes sense that Amazon picked up the story for continuation on a new platform.
It helps that Amazon CEO Jeff Bezos is a big fan of the books on which the show is based, according to the Hollywood Reporter, and he wasn't ready to see the TV series go. He made the public announcement on May 25 at a National Space Society panel where the show's cast and crew were in attendance.
"I was talking to the cast half an hour ago, before the break for dinner started," Bezos said in a video taken by series lead Cas Anvar. "I was telling them that we are working hard at Amazon to save The Expanse but it wasn't a done deal yet. During dinner, 10 minutes ago, I just got word that The Expanse is saved," Bezos said. "The show is extraordinary and these guys are unbelievably talented."
The Expanse stars Steven Strait, Shohreh Aghdashloo, Dominique Tipper, Cas Anvar, Wes Chatham, Frankie Adams, and Thomas Jane.
"We couldn't be more excited that The Expanse is going to continue on Amazon Prime! We are deeply grateful that Jeff Bezos, [new Amazon Studios head] Jen Salke and their team at Amazon have shown such faith in our show," said Alcon Entertainment co-founders and co-CEOs Andrew Kosove and Broderick Johnson, who produce the series, in a statement released to The Hollywood Reporter. "We also want to thank Laura Lancaster, head of Alcon Television, for her tireless efforts. We are fully aware that this wouldn't have been possible if it wasn't for the staggering outpouring of support from the most creative, hardest working sci-fi fans around the world. From reddit campaigns to airplanes, we say thank you. It worked!"
The show's writers were stoked to know they had more stories to tell on The Expanse. "It has been one surreal day to say the least," the show's writers tweeted on their official account. "Thank you so much to all the amazing fans who worked so hard & put in so much time & passion to fight for this family. Our family. The Expanse family. Thank you! Here we go! Together!"
It remains to be seen when The Expanse will return, but in the past, each season premiere has fallen roughly a year after the most recent season finale. If Amazon follows the show's existing production timeline, the new season may be available around June 2019. That should give eager fans plenty of time to re-read the books in preparation.