Target Is Offering 25% Off Beauty Products For One Day Only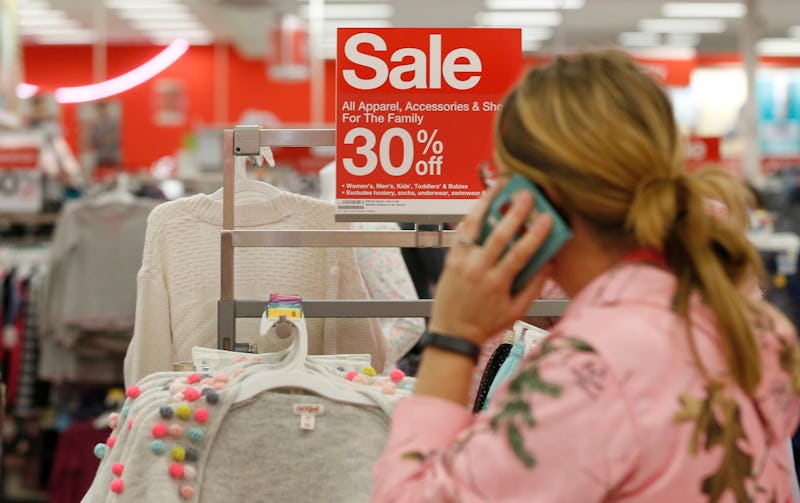 George Frey/Getty Images News/Getty Images
The retail world is understandably pumped about Amazon Prime Day and the incredible sales it is offering to Amazon Prime members. However, Target has responded with a major Summer 2018 beauty sale of its own. The big red bullseye retailer has confirmed a one-day, online-only sale that will begin the morning of Tuesday, July 17 and run through 11:59 p.m. CT. So it's a full day of sweet savings. What does this mean for you beauty routine, your cosmetics bag, your bathroom closet, and your skin?
All. Good. Things.
Target is offering 25 percent off beauty and personal care products.
According to the press release issued by Target's corporate office, the single-day sale is open to all shoppers on its site. No membership is required. It includes toys, electronics, furniture, and household items, as well as the aforementioned cosmetics.
The sale is easy to shop. All you have to do is head over to Target.com all day on Tuesday, July 17 and browse dozens of deals from Target-exclusive brands and other nationally available brands.
The press release also states that Target will off 30 percent off Target-exclusive home brands. There's also 30 percent off Target-exclusive kids' home brands. If you spend $20 on books, you save an additional $5.
We'll pause for a moment to allow you to fully process all of this good news and all of these savings. But we know you are really here for the deep discounts on cosmetics.
You will technically have to wait until tomorrow to see exactly which beauty products are officially part of the sale and to find out how specific or blanket the discount is.
But that doesn't mean you can't plan ahead. Target's beauty aisles are easy to get lost in — be it digitally or in the actual stores themselves.
Target boasts so many cool, prestige, and new brands that aren't easy to acquire anywhere and everywhere. The retailer has an excellent K-Beauty assortment, as well as brands like Soap & Glory, Honest Beauty, MISSHA, and more.
Here are some of the beauty aisle bests. These are suggestions for items to shop, if applicable, when the sale goes live. Please note the costs listed below are full, pre-sale prices.
1. A Chubby Lip Crayon
2. Something With Charcoal
3. A Face Mist That's A Cult Fave
4. Summer Body Wash
5. A K-Beauty Staple
6. A Do-It-All Balm
7. Rollerball Perfume
Obviously, this is a small sample of what's available. Restrictions apply and products are pending availability. If these items somehow don't fall under the sale, you should still check 'em out. And go ahead and take advantage of the deep discount during the Target one-day sale. A 25 percent-off sale is nothing to snooze on. You can build your entire fall product assortment accordingly.