Tarte's Gleam Team Highlight Gives Double The Glow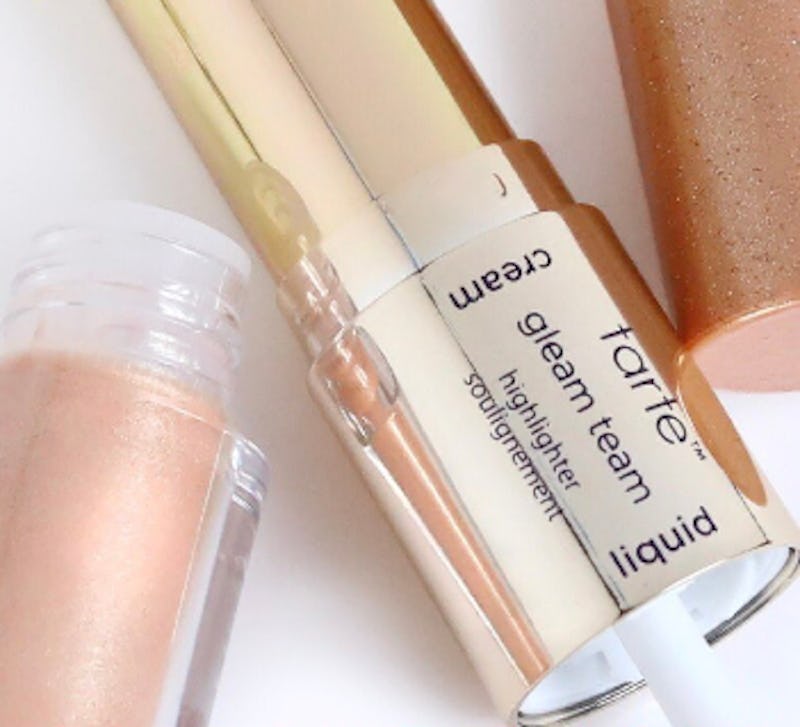 tartecosmetics/Instagram
You can never have too much highlight in your life, and given the fact that certain brands are dropping glowing shades left and right, you're about to add quite a few new products to your collection. When is Tarte Cosmetics' Gleam Team Highlighter coming out? Get this highlighting duo in your makeup bag as soon as possible!
According to a tease Tarte Cosmetics posted on their Instagram Story, you can expect to see products that deliver double the glow on the Tarte Cosmetics website on Mar. 5. The Gleam Team Highlighter is one tool that offers two different product formulas. There's a cream version and a liquid version so you can customize your glow.
If you're looking for a more subtle shimmer, use the liquid version. When you do, your cheeks, cupid's bow and more will slightly glisten in the light. If you're looking for mega shine, use the creamy side of the highlighting stick. The cream will give a more color payoff and a whole lotta shine. Basically, this is everything you could ever need, all in one convenient tool. Toss this in your weekender and head off on a spring break vacation. Glow-to-go? It just doesn't get better than that!
Because some things are better together.
You'll be able to shop these shimmers super soon, so get ready for non-stop glow potential!
This tool will add a golden shimmer to your makeup routine.
The second option will give you a rose gold shine.
There's no going wrong with either of these options! And if you can't get enough double-duty beauty, you're in luck. Because this brand is the queen of 2-in-1.
The Lip Architect, $24, Tarte Cosmetics
For instance, you can shop this lipstick and lip liner duo on the Tarte Cosmetics website now.
Arch Architect Brow Pencil, $24, Tarte Cosmetics
Get your brows perfectly groomed with this product that offers a brush and pencil all in one utensil.
Tarte Cosmetics makes it easy to get the perfect pout, brows and highlight with their double-ended options. Shop them all from Tarte Cosmetics starting Mar. 5 for the most convenient beauty routine ever!