Here's When To Set Your Alarm To See The First Full Moon Of 2018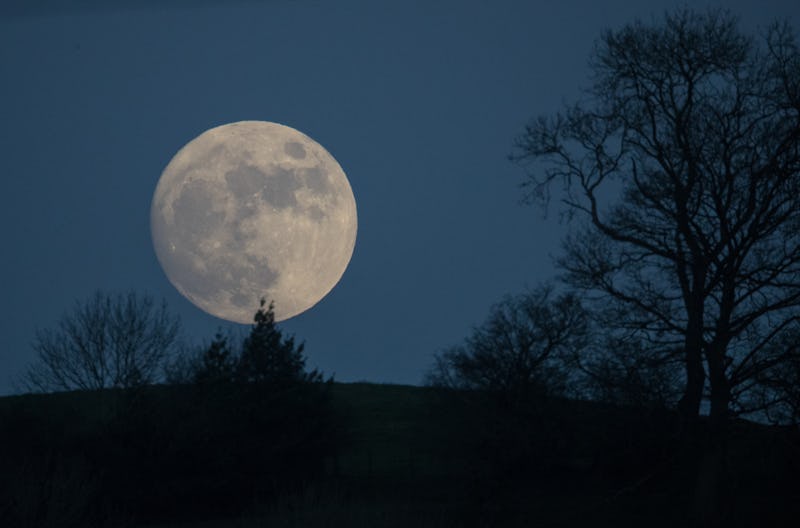 Matt Cardy/Getty Images News/Getty Images
It's almost a new year, and if you're a moon observers, you know what that means: a whole new calendar of full moons to look forward to. And, lucky for those who like to gawk at the glowing round rock in the sky, we're going to get two full moons in January 2018: A supermoon on Jan. 1, and a super blue blood moon on Jan. 31! Talk about starting 2018 off right! And, if you're wondering when the full Wolf Moon is this January — aka, the first full moon of the year — so you won't miss it, you've come to the right place. I'm gonna tell you right off the bat, you might want to take a nap on the first day of the year if you want to see this full moon.
New Year's Eve celebrations have us staying up at least until the clock strikes midnight so that we can raise a champagne flute to the new year. If you're having a really good time, you could be singing songs with your besties until the sun comes up. That makes the first day of the year one for napping. But if you sleep for too long, forget about mixing up your sleep cycle, you could miss the Full Wolf Moon in its prime.
And if there were ever a moon to howl at, tapping into the fresh and wild energy of the new year, it would be this one. I mean, it's literally referred to as the Wolf Moon, so if you listen closely you might be able to hear wild animals communicate to each other under the shining light of the full moon. That seems pretty magical. Don't wait a whole other year to experience the first full moon of the fresh calendar. Find out peak viewing times. Like New Year's Eve, this is also worth staying up for.
The first full moon of the year is referred to traditionally as the Wolf Moon as reported by the Farmer's Almanac because it first "appeared when wolves howled in hunger outside of villages." To some Native American tribes in the Northern Hemisphere the moon can also be referred to as the "Old Moon". But the image of a wolf howling in the direction of the moon, which — fun fact — apparently supports better acoustics as they communicate with other wolves, is one closely tied to the general perception of the mystical full moon. So the first full moon of the year is kind of like the prime image of what we imagine a full moon to be.
In order to catch a glimpse of the first January full moon so you can dance under it or howl to it — however you feel the need to interact with its ~energy~, no judgment — you'll want to be up on the night of Jan. 1. In New York, according to Space.com. "Moonrise in New York City that day is at 4:34 p.m. local time, just a few minutes before sunset which happens at 4:39 p.m. So the Wolf Moon will briefly share the sky with the sun, though you'll need a view of a relatively flat, unobscured horizon to see it happen." If you're viewing from a city, you might want to head to a rooftop or take a train to the suburbs to relish in the moonbeams. And capture an Instagram bound to rack up "likes" in the three digits.
However, if you're staring at the night sky in Europe and Asia, due to time differences you'll view the full moon on Jan. 2. The full moon will beam at it's peak around 2:24 a.m. on Jan. 2 in London according to timeanddate.com. And in Hong Kong the full moon can be in view on Jan. 2 at 10:24 a.m. Astronomy is curious, right?
No matter where you're located across our globe, the first full moon of the year is not one to snooze through. I mean, if you can even sleep with those powerful moonbeams shining through your bedroom window. Happy New Year!