Get Ready To Shop The New Kyshadow Palette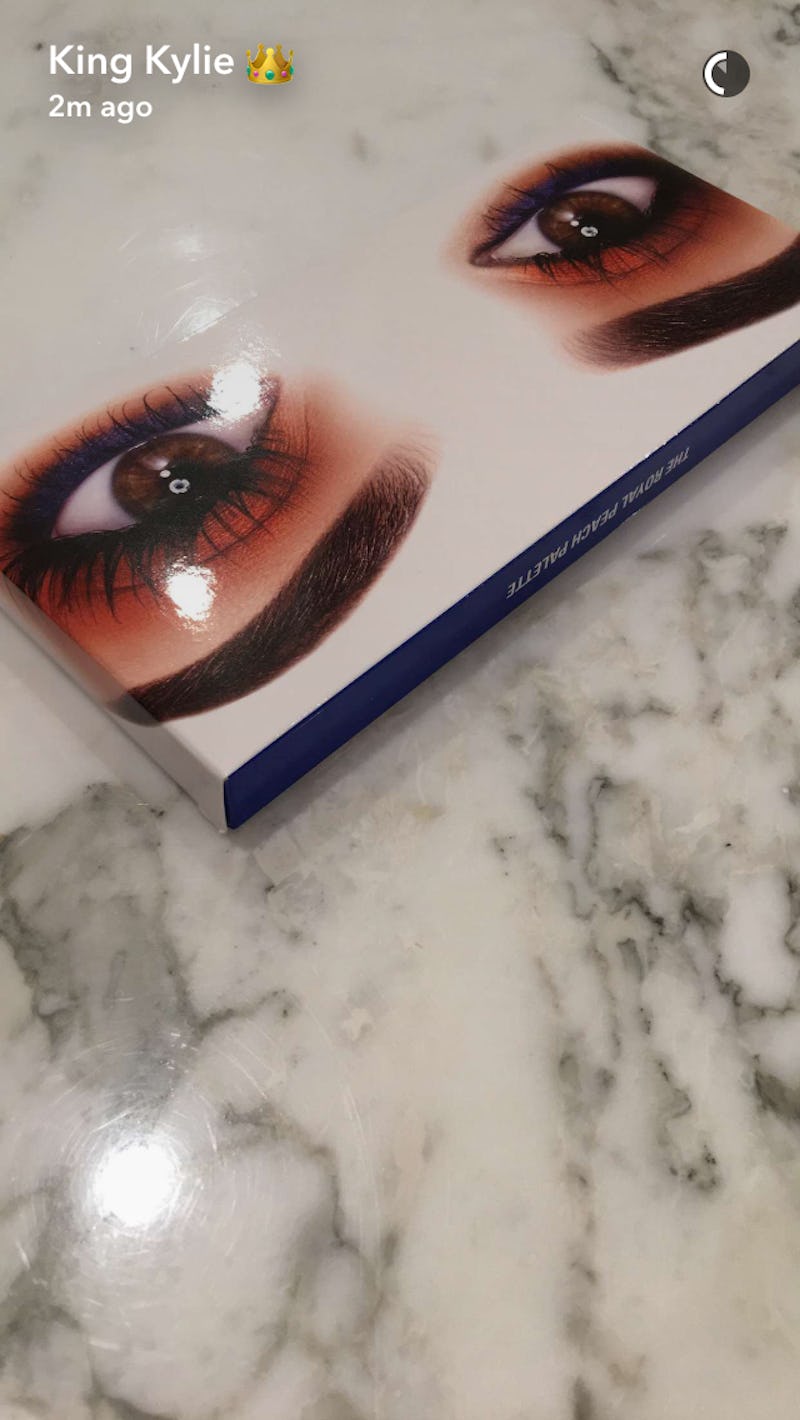 Does Kylie Jenner know how to get you pumped for 2017 or what? There are still a couple of days left in 2016, and she's already letting us in on what she has in store for her cosmetics brand in the New Year. Jenner posted a teaser of the upcoming KyShadow to Snapchat, and let me tell you something — the girl has gone and done it again. When is the latest Kylie Cosmetics Royal Peach Palette coming out? You're going to want to be online as soon as this product becomes available to shop. By the looks of it, these eye powders are going to be just as popular as all the rest. UPDATE: According to Jenner's Snapchat post, the Royal Peach Palette will be available on Jan. 12.
EARLIER: This will be the fourth palette to be released from the brand. It joins the likes of the Bronze, Burgundy and Holiday Palette, but this one is totally new and different. Instead of nine shades there are 12, which forced her to change the shape of the palette too — it's no long a square, it's a rectangle! She also added a mirror and a brush. So basically, everything you could ever need to create a killer eye look. It seems as though Jenner just keeps getting better and better at this whole creating-eye products thing.
She's only released a teaser so far, but this one, in particular, seems to be her most thought out one, making it the best one yet. According to Snapchat, the newest KyShadow will be coming out "super soon" — no exact date yet. In fact, she's not done giving us the full teaser. According to her Snapchat, you should tune in on Monday for the full reveal and more details!
I see you, Kylie!
She said she was inspired to make this palette by the peach eye look she rocked at New York Fashion Week.
So pretty right?
Soon? It can't get here quickly enough!
Fans were dying to get a glimpse of some incredible shades.
Before people even saw it, they knew it was going to be amazing.
And, boy, were they right!
But,then again, her products are always next level, so this really comes as no surprise.
This product is sure to sell out quickly, so be sure you're ready to shop the moment this launches! If you just can't wait to get your hands on some Jenner-designed eye colors, be sure to cop the palettes that are currently in stock on the website.
Holiday Palette, $42, Kylie Cosmetics
This limited edition item is still up for grabs, so add it to your cart, you know, to hold yourself over until the next Kyshadow arrives!