When Is The Lyrids Meteor Shower In 2017?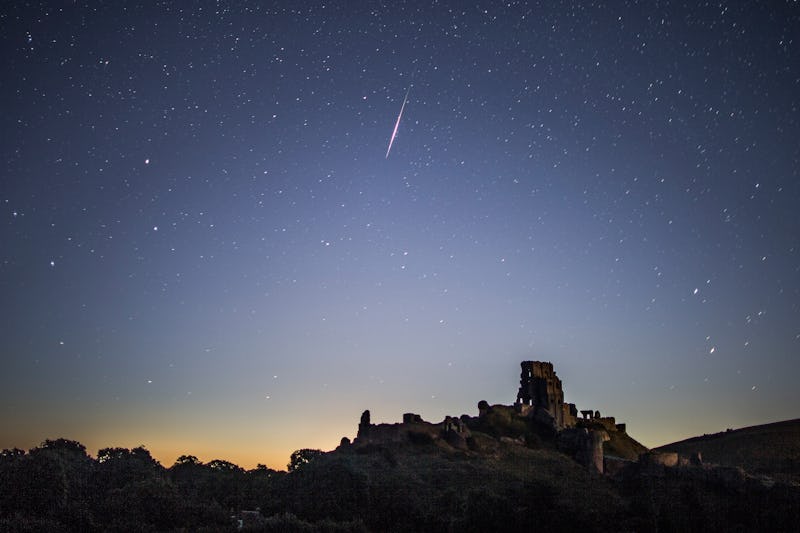 Dan Kitwood/Getty Images News/Getty Images
If meteor showers are your jam, you're definitely going to want to know when the Lyrids meteor shower is in 2017, because it's going to be worth staying up late for. Thanks to a few key ingredients like a crescent waning moon and a mostly dark night sky, the meteor shower will likely be super visible from most places in the Northern Hemisphere. So eat your carrots, get your vitamin K and make sure your peepers are in the best condition for the views to come.
The official shower period starts on Apr. 16 and will go until Apr. 25. But the best time to catch the shower is during its peak which will fall sometime between Apr. 22 and Apr. 23. If you're not able to pull an all-nighter, though, then before dawn when the sky is the darkest is going to be the best time to set your alarm clock for.
And while there's never any guarantee that the show will be entirely visible, it often is. On average, onlookers will see 10-20 meteors per hour during the peak. Reports of up to 100 meteors per hour have even been made. While it's rare, it's possible, so you definitely don't want to miss out on this opportunity to see something that's literally out of this world.
To get you excited about the big show, here are a few fun facts to spew over brunch this weekend:
It's The Oldest Meteor
The Lyrids are considered to be the oldest known meteor shower. There are records of the shower's existence that go all the way back 2,700 years. It's said that even the ancient Chinese had observed the shower in the year 687 BC. This shower is historical and ancient AF.
It Comes From Comet Thatcher
Dust particles and debris that has broken off of the comet Thatcher get vaporized and tear through the Earth's atmosphere, disintegrating and appearing to us as pretty streaks of light ... that are unfortunately impossible to Instagram.
It's Named After The Constellation Lyra
Lyra is one of the smaller constellations, only 52nd in size and is part of the Hercules family of constellations. Lyra is visible to the Northern Hemisphere and its biggest star Vega is one of the brightest stars in the sky. NBD.
You Don't Need Binoculars To See It
Depending on the phase of the moon and the amount of light pollution in the sky of course, the Lyrids meteor shower is totally visible without any expert equipment. Closer to dawn during the peak of the shower is the best time to view it, as the darker the sky is, the easier it is to see everything. Happy stargazing, take a break from Netflix and enjoy the sky show.