M.A.C.'s Betty Boop Red Lipstick Is Retro Cool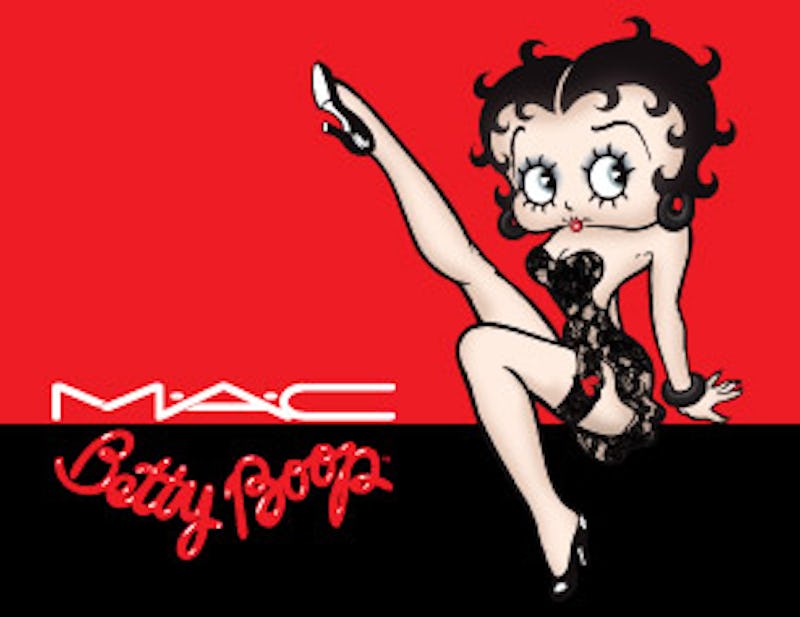 It's the heyday of 2D reinvention. While the show Riverdale is slowly but surely taking over my thoughts, M.A.C. is making sure another classic gets its due, with their newest collaboration a tribute to the OG cartoon Betty Boop. And while the Betty Boop legacy might be a little faded, it's timeless nonetheless. "Smart, sassy, self-confident," the Queen of Cartoons is back — and fitting for the black and white star, it's via a 1930's-esque, full-throttle red lipstick. Embracing the times! When is M.A.C.'s Betty Boop Red lipstick available? There's no long lead.
Paired with some iconic imagery of the cartoon star, the $17 dollar #MACBettyBoop lipstick will be available online on Feb. 14. According to the brand, "the Queen of Cartoons, Betty Boop, transcends the decades winning over fans worldwide," and the tribute is "a true red lipstick modeled after her signature Cupid's bow pout." It would be a stunning twist if video archeologists somehow found her lipstick was actually blue, but alas, we're stuck with this gorgeous red. We'll make do, happily. Never enough red.
As ever when M.A.C. introduces a new anything, my first question was how it stacks up to the go-to shade Ruby Woo. The brand hasn't posted swatches yet, but over at PopSugar, Betty Boop Red looks likewise universal.
M.A.C. Betty Boop Red, $17, MacCosmetics.com
Sadly it's not quite black, white and red all over, but close. For comparison, here's Ruby Woo:
M.A.C. Ruby Woo, $17.50, Nordstrom
Betty Boop Red's retro shade will work on both warm and cool skin tones, drawing on the fire engine imagery M.A.C. released with the collab.
So far the lipstick is all we've got, but if they're playing to the retro crowd, ideally someday they'll go for broke with a set of vintage-inspired products. Pancake foundation, massive lashes, etc, all in M.A.C.'s signature modern formulas? It'd be a perfect match. Until then, Betty Boop Red will tide us over, no eyebrow wax required.
Images: Courtesy of Brand