Here's When The Next Powerball Drawing Will Happen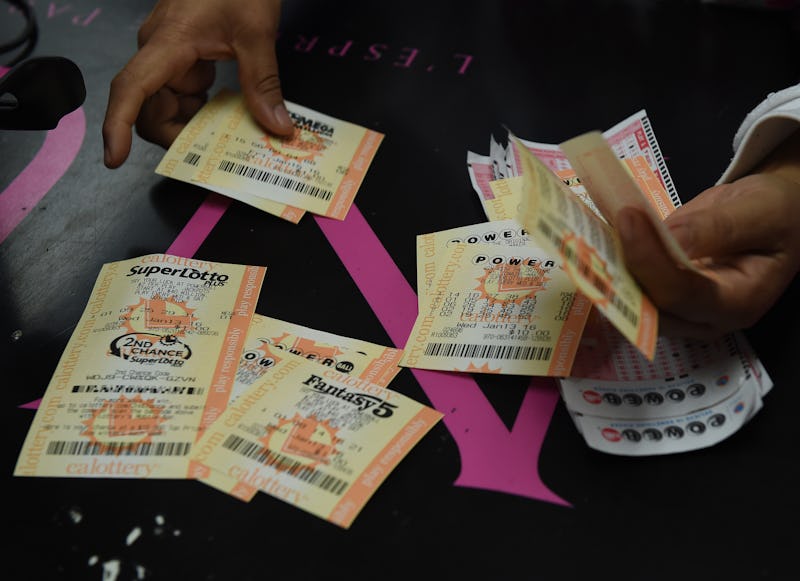 MARK RALSTON/AFP/Getty Images
On Wednesday night, one of the biggest lottery jackpots in the nation's history — $700 million — was on the line. The Powerball has reached the historic potential payout without a significant payout since January 2016. The next Powerball drawing will be on Sunday, so head to your closest gas station or bodega to pick up a ticket.
Update: CBS Boston reported that Mavis Wanczyk bought the winning ticket at 2:30 p.m. on Wednesday.
The drawings are every Wednesday and Saturday night, but there's no way to tell yet what the amount on the line will be at Sunday's draw. If there's no winner from Wednesday night's drawing, the jackpot could jump to as high as $1 billion, according to ABC News. However, if someone comes forward, the jackpot rolls over again and it could be another year before it gets this high again.
Becoming an overnight billionaire would obviously be a dream come true, but if you were to win, you wouldn't actually be receiving $1 billion in your bank account. State and federal taxes on lottery winnings can take a chunk out of your bottom line, plus the value is significantly lowered if you choose to take the up-front cash instead of a recurring annual payment, known as an annuity. It might seem like a ripoff, but it's hard to be too upset about theoretically only getting $500 million instead of a billion dollars.
However, there's always the chance that you might have to split your winnings too. Last year, three separate winners in California, Florida, and Tennessee had to share a $1.58 billion jackpot, which meant that after taxes, the lump sum was worth $187.2 million. So even if you find out tomorrow that you have a golden ticket, you can't quite start earmarking your budget.
You could also get lucky and live in one of the several states that don't tax lottery winnings or don't pay income tax, which includes Texas, Pennsylvania, and California. In that case, you'd only have to pay a federal tax, which is 39.6 percent for the biggest jackpots. And if you're super lucky and you live in Puerto Rico, you don't have to pay local or federal fees.
Just because there's a drawing every week doesn't mean you should go out and play all the time. Your chances of winning are beyond low, so buying a ticket should be about getting in on a piece of the action when the jackpot starts to get some buzz. Sure it's fun to play, but saving your dollars every week can get you much more tangible rewards in the end. So grab your ticket now while everyone is excited about the lotto, but don't use it as a long term investment strategy.