Here's When The Senate Is Expected To Vote On Kavanaugh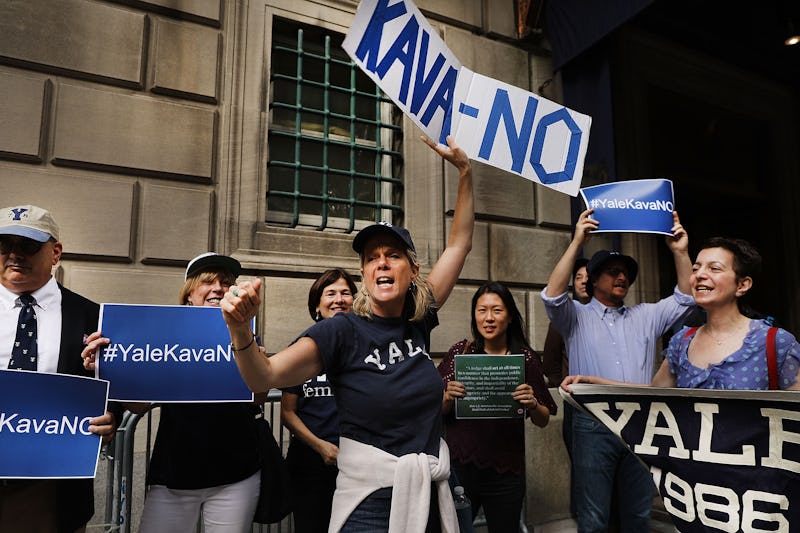 Spencer Platt/Getty Images News/Getty Images
After months of chaos, controversy, and congressional hearings, the Senate's confirmation vote for Supreme Court nominee Brett Kavanaugh is right around the corner. As the FBI wraps up its last-minute investigation into the allegations against Kavanaugh, Republican leadership has repeatedly said that they plan to hold a floor vote on his nomination sometime this week. Now, we finally know when the full Senate vote on Kavanaugh will be.
Senate Majority Leader Mitch McConnell filed cloture so the Senate can hold a key procedural vote Friday, likely followed by a final confirmation vote on Saturday. The procedural vote, scheduled for Friday, will determine whether or not the debate on Kavanaugh will be limited to no more than 30 hours, according to Vox. If the motion passes, it could significantly speed up the process, and a final vote could happen the following day on Saturday. This will come after a series of delays, following Dr. Christine Blasey Ford's accusation that Kavanaugh sexually assaulted her when the two were teenagers.
Kavanaugh immediately denied the accusation, but the Senate Judiciary Committee nevertheless delayed its September vote on Kavanaugh to give Ford time to testify before the committee. This was the second time the committee delayed its vote, having done so earlier at the request of Democrats prior to Ford's allegations being made public.
The committee finally voted on, and approved, Kavanaugh on Friday, and a full Senate vote was expected to come days later. However, that full vote was then delayed when Republican Sen. Jeff Flake made an abrupt call for the FBI to carry out an investigation into the multiple sexual assault allegations against Kavanaugh. (Kavanaugh vehemently denies all the accusations.)
Flake still voted in favor of moving Kavanaugh's nomination to the Senate floor. At the same time though, he essentially guaranteed that he and a few other swing-vote Republican senators — most likely Sens. Susan Collins of Maine, and Lisa Murkowski of Alaska — would vote no on the final confirmation vote if the committee did not call for an FBI investigation first.
On Wednesday, Sen. Chuck Schumer of New York requested that the FBI meet with senators and brief them on the investigation, but McConnell refused, arguing that Democrats were just looking to delay a vote. "I believe it would be used to further delay this nomination-a goal about which you and your Democratic colleagues have been abundantly clear and single-minded in pursuing," he said. The investigation report, which was delivered to the White House and could already be in senators' hands too, has come under fire for its scope. Reportedly, neither Ford nor Kavanaugh have been interviewed for it.
51 senators need to vote yes on Friday's procedural vote to initiate the 30 hour debate period and the final vote on Saturday. In a 50-50 vote tie, Vice President Mike Pence will step in to break it. According to Vox, Friday's vote could serve as an indicator of how a final vote would go, though some senators may vote yes on the procedural vote even though they are still undecided. However, if enough senators block the procedural vote, Kavanaugh's confirmation process could end up defunct.
Kavitha George contributed to this report.