When Mar-A-Lago Visitor Logs Go Public, There Will Be One Big Problem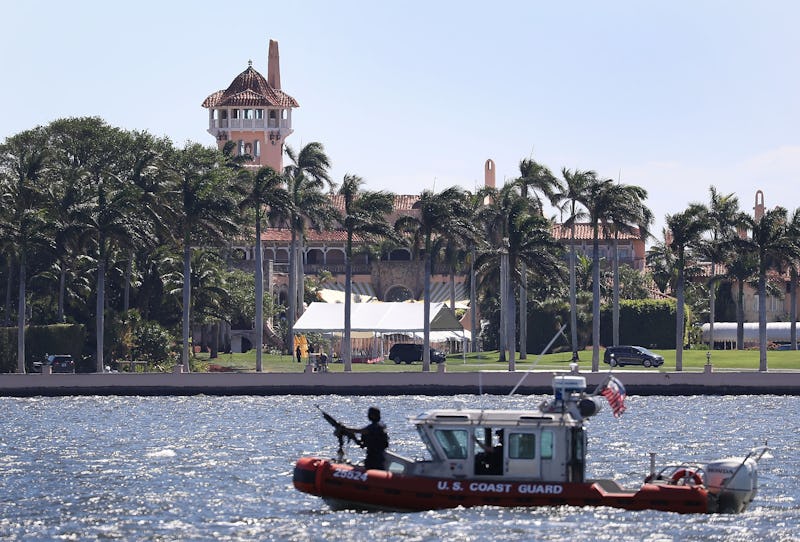 Joe Raedle/Getty Images News/Getty Images
Thanks to ethics watchdog Citizens for Responsible Ethics in Washington, President Donald Trump's administration will release Mar-a-Lago visitor logs this fall. The only issue is that Mar-a-Lago doesn't keep a log of those who go in and out of the president's private club.
CREW, along with the National Security Archive and the Knight First Amendment Institute at Columbia University, sued the Department of Homeland Security in April for visitor records for Mar-a-Lago, Trump Tower, and the White House. The White House request is still pending, and DHS reportedly told CREW that there is no log for Trump Tower. However, a federal court in New York has ordered the DHS to release Mar-a-Lago's records.
According to CREW, DHS will turn over any records from Mar-a-Lago by Sept. 8, and the watchdog organization will then make the records public. However, according to POLITICO, Mar-a-Lago doesn't actually keep a record of visitors entering the Florida property, even when the president is there. POLITICO also noted that entry into Mar-a-Lago does not require a comprehensive background check or weapon screening.
The president has so far spent 25 days at Mar-a-Lago since assuming the office, according to a tracker by The New York Times. But if there currently no visitor log at Mar-a-Lago, what will be released? CREW spokesman Jordan Libowitz told POLITICO, "We don't know exactly what records they have," but the DHS has been ordered to produce records for "presidential visitors" of the club.
Not long after the April lawsuit was filed, Trump's administration announced it will not release White House visitor logs. According to White House communications director Michael Dubke, the decision was made because of "the grave national security risks and privacy concerns of the hundreds of thousands of visitors annually." As a part of the decision, visitor logs at the White House are currently set to be kept secret until at least five years after President Trump leaves office. However, the pending lawsuit could change that.
In March, Congressional Democrats introduced the MAR-A-LAGO Act (Making Access Records Available to Lead American Government Openness Act) to require the administration to publish a visitor log for the White House, as well as other places Trump regularly visits, like Mar-a-Lago and Trump Tower. But in a Republican-controlled Congress, it's not likely to go anywhere.
The Hill reported that CREW also sued former President Barack Obama's administration for records of the White House visitor log, which they then began releasing in 2009.