Rachel's 'Bachelorette' Season Will Be Here Soon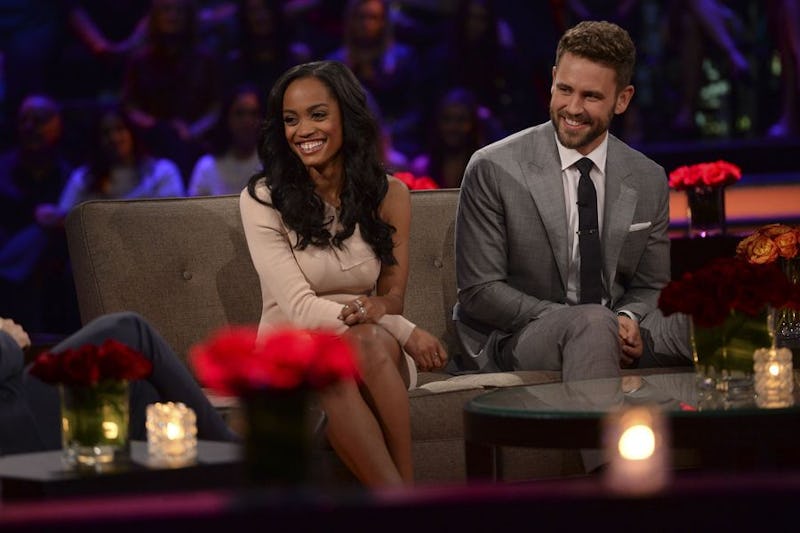 /Michael Yada
The Bachelor is almost over, and Nick Viall just eliminated the woman who's already been invited to be the next Bachelorette: Rachel Lindsay. She is one of the most likable contestants the show has ever had, so the premiere of her season is hotly anticipated — but when will Rachel's Bachelorette season begin? According to E!, the premiere date of Rachel's Bachelorette season is May 22, putting it just two months and a week from the end of Nick's season. And, while knowing that Rachel was going to be chosen as the Bachelorette made the end of The Bachelor a little anticlimactic, but when new season premieres, it will have all been worth it.
It's very exciting to approach a new season with the historic context of Rachel being the first black Bachelorette and the highest-placing black contestant in The Bachelor's run, but also one with a central suitor who is so likable. And, since every year this franchise tries to raise the bar with more exciting stunts, hilarious scandals, and interesting twists, you know her season will be amazing to watch. Here are a few things to look forward to this spring when Rachel Lindsay makes her debut as The Bachelorette.
The Cast
Will Rachel's season continue the show's renewed commitment to diversity? Certainly, there's no obligation for Rachel to choose a POC as the winner just because she is black. But let's be real: This is a highly orchestrated TV show. They can afford to cast some people of all shades, just for interest's sake. Who would not want to date Rachel?
Rachel's Family
They made for a very normal home visit, but I know she'll have their voices in her head while deciding who to choose, and I'm curious what kind of person they'd approve of. There's also a little intrigue, with the way Rachel's dad wasn't a part of her Bachelor home visit. Overall, they seem like a smart bunch who will give good advice. And watching Nick try to figure out how to blend in at her church was hilariously endearing.
Surprise Guest Spots
Andy showed up just before one of Nick's rose ceremonies, Nick appeared on Kaitlyn's season and went on to make it to the end. Surprise appearances are one of the best things about the show's highly orchestrated TV nature, and the series always knows when to bust them out.
Celebrity Surprise Guest Spots
It feels like every cycle there's another celebrity who admits that they're obsessed with The Bachelor or Bachelorette. And I want to see Rachel get in on some of that celebrity action.
Rachel's Hugs
She's a great hugger.
Live Tweeting
From producer Mike Fleiss, who manages to turn his feed into a full-time teaser for future Bachelor/ette content, to the millions of non-verified viewers who spend hours every week online making GIFs, telling jokes, and sharing shock about the latest major twist.
When Rachel's season of The Bachelorette premieres on May 22, it can't come soon enough — not just because it will break barriers, but because a new Bachelorette season is always something to be excited about.