You Should Book Your Flight For Thanksgiving By This Day To Save The Most Money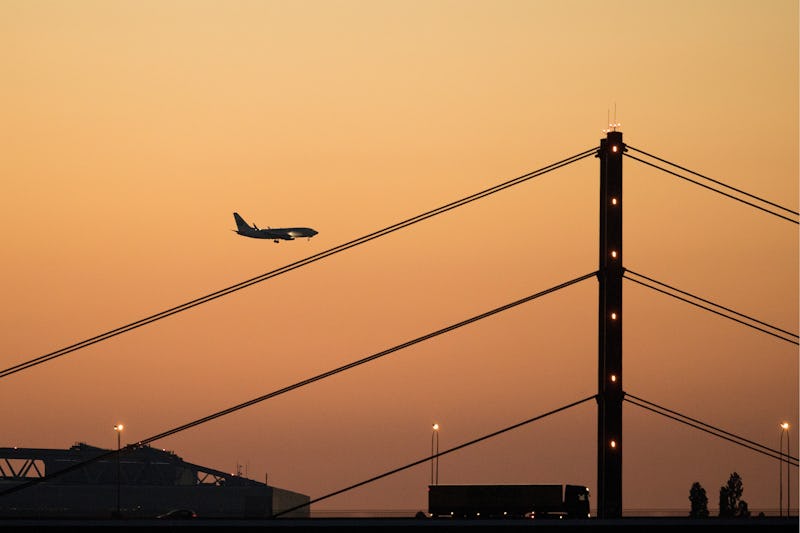 Andreas Rentz/Getty Images News/Getty Images
It's still technically summer, and the fall holidays might feel like they're a long way off. But, if you're planning to fly this holiday season, then you're definitely going to want to know when to book flights for Thanksgiving 2018 to ensure you get the most savings. Travel site KAYAK recommends booking your Thanksgiving flights between Sept. 12-17 in order to save an average of $300 while travel site Hipmunk recommends not waiting any longer than Oct. 23 to take advantage of tickets for $387 or less, depending on your destination.
What's more, if you fly on Thanksgiving, Hipmunk noted that tickets tend to cost an average of 21 percent less, and you'll also miss the chaos of one of the busiest travel days of the year — the day before Thanksgiving. Because airfare rates fluctuate based on the popularity of your destination, how full the plane is and how late you buy your ticket, it can be difficult to know which dates offer the best deals. While it is possible to get a last-minute deal, CheapAir.com recommends that earlier is better when it comes to booking Thanksgiving travel. "Fall is a good value for leisure travel. It's shoulder season for a lot of destinations, and most people have done their big trips in the summer," the travel site revealed in its 2018 airfare study.
"Therefore, you can usually find reasonably priced tickets in the fall. The one exception is Thanksgiving week, when airfares are priced at a premium and sell out quickly. You should definitely buy Thanksgiving airfare on the early side for the best prices." If you want to roll the dice by opting to wait until October to book your Thanksgiving flight, you can create an alert on KAYAK and other travel sites.
Just input your destination, preferred price, and desired dates of travel. Additionally, if your travel dates are flexible, you're willing to fly out of another nearby airport, and you don't mind taking a connecting flight, you might be able to get a cheaper ticket. Once you create the alert, you'll get an email or notification when flights matching your specifications are available.
However, sometimes when you wait for something better to come along, you end up missing the good thing that's right in front of you. "If you have an itinerary in mind, you must be ready to buy when you see a good fare. Going away to 'think about it' is risky," CheapAir.com noted. "Other travelers are also watching fares and someone else is likely to hop on a low fare while you're mulling things over. Be decisive."
Unfortunately, there is no exact science to booking the cheapest flight. I've gotten a cheap ticket the day before a flight, and I've paid eleventy-million dollars when booking pretty far in advance. If you're on a budget, and you want to ensure you'll be at the dinner table on Thanksgiving enjoying mom's stuffing and Aunt Dottie's doughnut salad appetizer-desert combo, it's a good idea to start looking for deals ASAP. Good luck my friendlies, and may the odds be ever in your favor.