M.A.C.'s Lip Duos Are Only Here For A Limited Time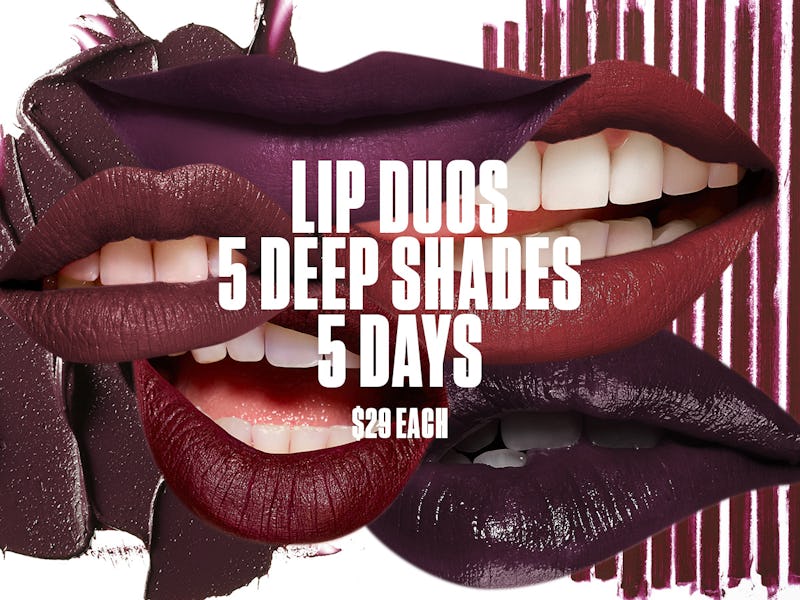 Time for an opinion I'll state like fact: Lip kits saved lip liner. It's true (to me). Sure, Kylie Jenner rode the wave of brands using a direct to consumer model to revolutionize the beauty industry — sure. But her real triumph? I've gotta point to lip liner, based on the brands following suit to pair lipstick and liner in bundle deals. New up is M.A.C.'s dark set of Lip Duos, hot on the heels of Urban Decay's Ultimate Pairs. And available for five days only, figuring out when to buy M.A.C.'s Lip Duos is a highwire act.
Where the brand's January Lip Kit foray was made for nude lip lovers, this one is a rodeo of bold, dark colors. Numbering five duos, they'll fittingly be available for five days in-store and online from March 23 to March 27. Just like the Ultimate Pairs, each duo is "whaa?" low-priced at $29. Perspective: a M.A.C. lipstick typically goes for $17, and a lip liner $18. Love saving a sweet chunk of change.
Colorwise, we're looking at browns, bricks, plums and burgundy purples. Think the color of a well-stocked wine cellar, although that's admittedly the least sexy metaphor. Nice and musty.
Specifically, pairs are Film Noir and Chestnut Instigator, Cyberworld Media and Vino, Sin and Burgundy, and Smoked Purple and Nightmoth.
M.A.C. Lipstick in Film Noir, $16, Nordstrom
Film Noir is a '90s brown, although do you wonder if in twenty years they'll be calling this 2017 brown? Something to think about.
M.A.C. Lip Pencil in Vino, $16, Nordstrom
Vino is sold out on M.A.C's website as of now, so if you're been searching this is the time to grab it at a discount.
M.A.C Lipstick in Sin, $16, Nordstrom
Vampy brick Sin, a classic in more ways than one. Like Urban Decay, the brand veered from typical liquid lipsticks to traditional bullets for their second lip kit iteration. Personally, I'm feeling the color scheme — Kylie Cosmetics and Huda Beauty excel at nailing nude lip kits, but M.A.C's making the most of their drama color libe with these limited edition sets.
M.A.C. Lip Pencil in Nightmoth, $16, Nordstrom
And Nightmoth, a blackened plum that does the word combination proud.
Unclear how they'll hold up in the court of "Name a more iconic duo...I'll wait," but the competition is strong. Also: How is that saying not a lipstick name yet.
Images: Courtesy of Brand