Here Are The Deets On Halo Tops New Flavors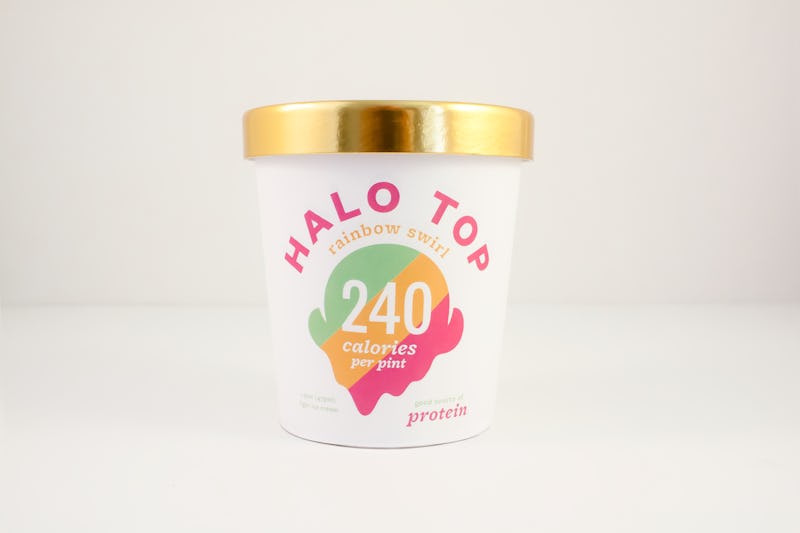 Halo Top
If you're an ice cream junkie, aka, a regular human on planet Earth, you've probably heard by now that Halo Top is releasing seven new flavors. In fact, you're probably on your way to the grocery store already! (Please don't read and drive, though.) Well, I'm sorry to say you're gonna wanna go home, because unfortunately the new flavors aren't exactly available yet — at grocery stores anyway.
Here's the deal. Starting Aug. 14, the new flavors will start to make their way to grocery stores, reaching all the way across the country by the end of the month. However, there's a loophole, and if you're a die-hard Halo Top fan, you're going to want to pay attention closely. For only $6.99 a pint, fans can oder their ice cream early from Ice Cream Source, and skip all that wait time. Meaning, literally, right this very moment, you can click that link and fill up your virtual shopping cart with as many pints of the new flavors as you want, and they're be on your way to you, ASAP.
But if you want to hang back and wait for other people to try the new flavors before you jump in line, you still might want to familiarize yourself with the new flavors so that you know what you have to look forward to hearing about, from everyone, especially on Instagram.
Pancakes & Waffles
It's exactly what it sounds like. It literally has buttery pieces of pancakes and waffles, plus a super solid drizzle throughout of maple syrup! If you want to eat this for breakfast, ain't no one going to be judging you.
Cinnamon Roll
It's not just like a basic cinnamon-flavored cream. It's actually filled with chunks of doughy cinnamon rolls, with cinnamon icing swirls, eliminating the need to ever go back to basic cinnamon rolls again.
Mochi Green Tea
It's not just green tea, it's green tea with mochi pieces sprinkled throughout. This is definitely the flavor I'm most excited about.
Rainbow Swirl
This fruity, sweet, tart combination of colors and flavors is an instant Instagram classic. Get ready to see this everywhere.
Candy Bar
Ice cream blended with crunchy peanuts, layers of chocolate and caramel swirls is the perfect late night snack, and will definitely save you a trip to the bodega.
Chocolate Covered Banana
Banana ice cream with milky chocolate swirls — this will remind you of your childhood in the best possible way. Plus, you get all the ice cream sundae without any of the mess. One stop shop, folks!
Caramel Macchiato
This creamy coffee ice cream packed with caramel ribbons will totally eliminate the need to get your regular coffee fix. OK, that's an exaggeration, but it looks really good!