Here's When The Last London Terrorist Attack Was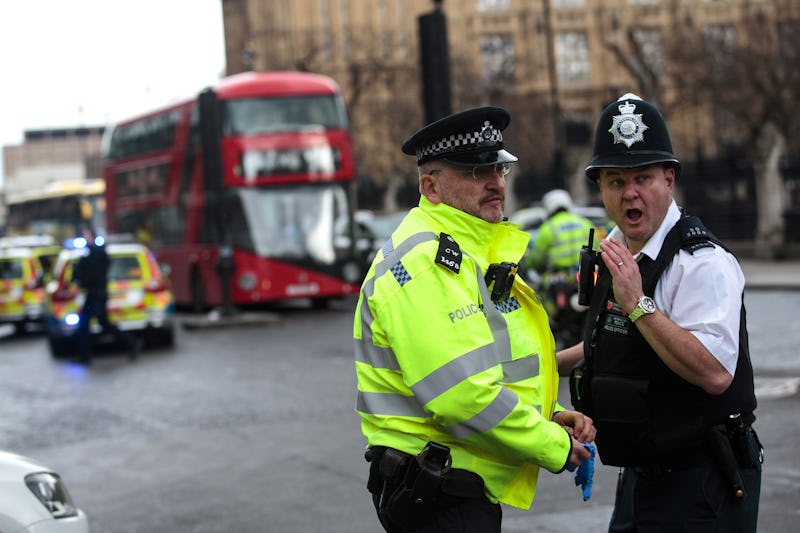 Jack Taylor/Getty Images News/Getty Images
On Wednesday, March 22, a police officer was stabbed outside the Houses of Parliament in London and an assailant was shot by armed police. The Metropolitan Police have confirmed "We are treating this as a terrorist incident until we know otherwise." In a dark time like this, it's fair to ask when the last terrorist attack in London was, though the answer might depress you.
If we're talking simply in terms of timings, the last one was on Dec. 5, 2015, when a man attacked three people at Leytonstone tube station with a knife, shouting "This is for Syria." However, if you expand the definition to include terrorist attacks that were foiled before they could injure anyone, then there was an even more recent attack. On Oct. 20, 2016 police discovered a viable improvised explosive device on the Jubilee Line on the London Underground and closed North Greenwich station for six hours so they could detonate it safely.
However, London's most infamous terrorist attack of recent years were the July 7, 2005 bombings. On Thursday July 7, four Muslim extremists detonated four bombs, three across London Underground trains and one on a double-decker bus during rush hour. Fifty-two people were killed and over 700 people sustained injuries during the attacks, and it was Britain's first ever suicide attacks, according to The Guardian.
Just two weeks after the July 7 bombings, on Thursday, July 21, four attempted bomb attacks took place. Astonishingly, the prosecution for the four men who were responsible for the attack argued they were unconnected with the July 7 bombings, claiming the bombs were never intended to go off and were meant as a protest against the Iraq War. The attempted attacks took place at Shepherd's Bush, Warren Street, and Oval stations and on a bus passing through Shoreditch. In each instance, the bomb detonator fired, but did not ignite the main explosive charge.
As of yet, there are no firm figures for the total number casualties from the March 22 attack — but, according to the Telegraph, a junior doctor at St. Thomas hospital, which is located near the attack, has confirmed that, tragically, at least one female pedestrian has passed away and that a police officer with a head injury has been taken to King's College hospital. The police believe more than 10 people have been seriously injured.