This Was The Last Time The Super Bowl Went Into OT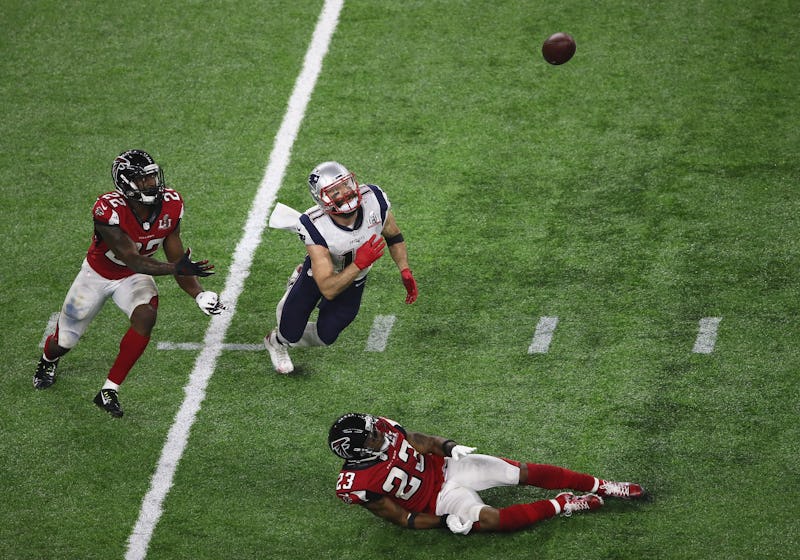 Ezra Shaw/Getty Images Sport/Getty Images
The Super Bowl is a well-established event in American history, but each year still manages to bring surprises of some kind. This being said, you might be wondering when the last time the Super Bowl went into overtime was.
Actually, the Super Bowl has never gone into overtime before. That's right, we've had 50 Super Bowls before this year, and not a single one has gone into overtime before. Coming back from a 21-3 deficit at half-time, the New England Patriots managed to make a comeback in the last minute of the game and tie the Atlanta Falcons 28-28.
Going into the game, the Patriots were the favorite to win according to Las Vegas pros, Fortune reported. During the actual game, with such a big score gap, it seemed more likely that the Falcons would win. But then Patriots quarterback Tom Brady and his team pulled off a tie after Falcons' quarterback Matt Ryan fumbled the ball at a crucial moment. This isn't the first time Brady's team has made important moves during the last couple minutes of a Super Bowl; during Super Bowl 36, the St. Louis Rams managed to bring the score up to 17-17 — with less than two minutes left on the clock. Under Brady's leadership, the Patriots managed to get close enough for Adam Vinatieri to clench a Patriots victory through a field goal.
The Patriots ended up winning Super Bowl LI during overtime. During the regular season, it is possible for a game to end in a tie. The rules are slightly different during the Super Bowl; if both teams remain tied after the overtime period, the game continues until a winner emerges. Of course that wasn't necessary this time around; the Patriots managed to defeat the Falcons 34 to 28 during the overtime period.