The Last Time The U.S. Had A Military Parade, Full House Was Still On Air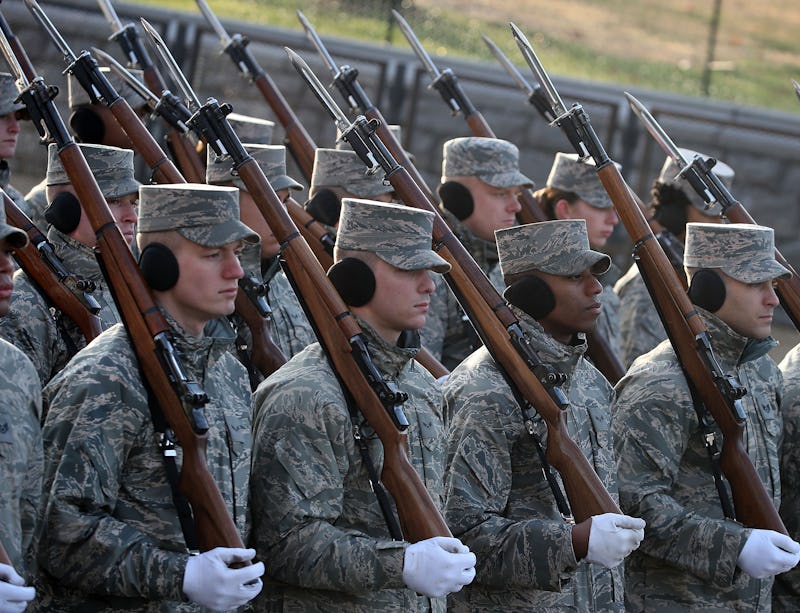 Mark Wilson/Getty Images News/Getty Images
Donald Trump mused about the idea of a U.S. military parade on Tuesday, apparently with the goal of putting on a great show of national unity and patriotism. It may sound like a brand new idea, but Trump's plan for a military march is actually part of a larger American tradition. In fact, the last U.S. military parade happened under President George H.W. Bush in 1991. Nearly thirty years after that Gulf War Victory Parade, Trump wants to make military parades a thing again.
White House Press Secretary Sarah Huckabee Sanders said this week that "President Trump is incredibly supportive of America's great service members who risk their lives every day to keep our country safe. He has asked the Department of Defense to explore a celebration at which all Americans can show their appreciation." The Pentagon also was made aware of Trump's wish, according to its spokesman Army Col. Robert Manning. Manning told USA Today, "We are aware of the request and are in the process of determining specific details."
The president apparently had been inspired by a French military parade he attended (and tweeted about) on Bastille Day in 2017. An anonymous Pentagon official told The Washington Post, "The marching orders were: I want a parade like the one in France." The official added, "This is being worked at the highest levels of the military."
The last time the United States held a military parade was while former president George H. W. Bush was in power. Held in June, 1991, the massive parade had two chapters - one in New York City and the other in Washington, D.C. - to celebrate America's Gulf War that took place nearly three decades ago. Collectively, almost 200,000 people attended the parade while it cost an estimated $8 million, according to The Washington Post.
One of the most comprehensive coverages of the 1991 parade came from CBS News. One of the network's correspondent, Eric Engberg, explained why the march was given such importance around the country. Engberg told his colleague Bob Schieffer, "I think we sent one of the most professional armies in American history to fight the war against Saddam Hussein."
The CBS News correspondent went on to say, "They didn't expect any parades on the way back, they just felt they had done what they were done to do and had accomplished their job. But the civilian sector of the country, the Americans who remember Vietnam and the divisions of that era and the mistakes of that war were not reported and those troops were given a hearty thank you."
Before the 1991 Gulf War Parade, there was John F. Kennedy's inauguration in 1961. The Kennedy parade, just like the 1991 march, boasted a variety of American military missiles such as the Nike Zeus, smaller marches by soldiers, and other nationalist display.
American military parades have been going on for at least seven decades. Back in the 1940s, New York held the "At War Parade" to bring up citizens' morale during the World War II. One of the most memorable displays during the parade consisted of former president Franklin Roosevelt's bust on a float. The parade was almost 11 hours long and attracted over two million people. In 1953, there was former president Dwight Eisenhower's inauguration that also displayed military equipment and nationalist fervor, including an atomic cannon.
For now, Trump and others keen on a military parade may have to wait for a bit. Without specifying an exact day and time for a patriotic march, Pentagon spokesman Charlie Summers told CNN that the planning for an American military parade was in its "infancy."