These Are The Major Characters Returning For 'A Discovery Of Witches' Season 2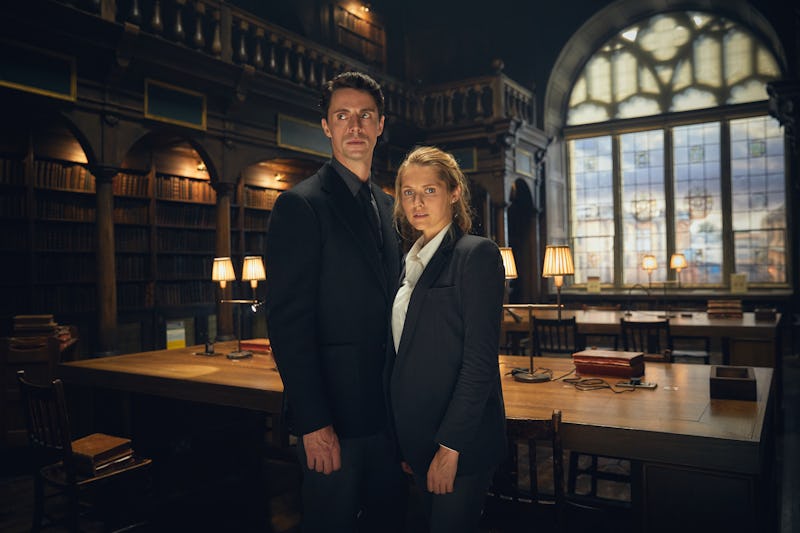 Sky UK Limited
The first series of Sky One's A Discovery of Witches ended on something of a tense note, as Diana and Matthew attempted to flee their pursuers into the past. Thankfully, fans should eventually see their hundreds of questions answered: after the show became Sky One's biggest drama of the year, raking in almost two million viewers, the network has renewed it for a second and third season. Viewers can rest assured, then, that they'll see the bitter conflict between witches, vampires, and daemons resolved on-screen. But when will A Discovery of Witches season two start?
As of yet? We don't know. In the press release announcing the show's renewal, Sky didn't give an air date, or even an air month, or an air year. The seasons will presumably follow the second and third books in Deborah Harkness' All Souls trilogy, Shadow of Night and The Book of Life. The network did confirm that the second and third series, like the first, will be available both on Sky One and NOW TV — plus, somewhat more enticingly, Sky offered a synopsis for the second series. From the sounds of things, it'll adhere pretty faithfully to the plot of Shadow of Night.
According to the press release, series two will see Teresa Palmer's Diana and Matthew Goode's Matthew "hiding in time in the fascinating and treacherous world of Elizabethan London — here they must find a powerful witch teacher to help Diana control her magic and search for the elusive Book of Life."
"Back in the present day, Diana's beloved aunts, Sarah and Em, must take shelter with notorious witchhunter Ysabeau de Clermont at her ancestral home, Sept-Tours," Sky said. "Meanwhile, in Oxford, Marcus and Miriam take on Matthew's mantle to protect daemons Nathaniel and Sophie, whose pregnancy is advancing. And Gerbert, Knox, Satu and Domenico are determined to hunt down every clue they can to Diana's and Matthew's disappearance, and the secrets their allies are keeping from them."
In Shadow of Night, as Bustle recapped, Diana and Matthew also encounter the School of Night, a group with which Matthew has a complicated history. The book begins to unravel his sinister past, plunging Diana even deeper into danger.
Sky confirmed some of the characters who'll be returning for the second season. Alongside Diana and Matthew, the season will feature (deep breath): Alex Kingston's Sarah Bishop, Valarie Pettiford's Emily Mather, Daniel Ezra's Nathaniel Wilson, and Aisling Loftus' Sophie Norman.
Ready for round two? Viewers will also be reintroduced to Aiysha Hart's Miriam Shephard, Edward Bluemel's Marcus Whitmore, Lindsay Duncan's Ysabeau de Clermont, Malin Buska's Satu Järvinen, Owen Teale's Peter Knox, Trevor Eve's Gerbert D'Aurillac, and Gregg Chillin's Domenico Michele.
All Souls trilogy author and series executive producer Deborah Harkness said she's "thrilled" that A Discovery of Witches has been renewed, adding, "There is so much to look forward to as we travel into Matthew's past and delve further into the mysteries surrounding Diana's power and Ashmole 782." A lot to look forward to indeed — now can we please get a release date?