Why Every Country EXCEPT The U.S. Already Has 'Annihilation' On Netflix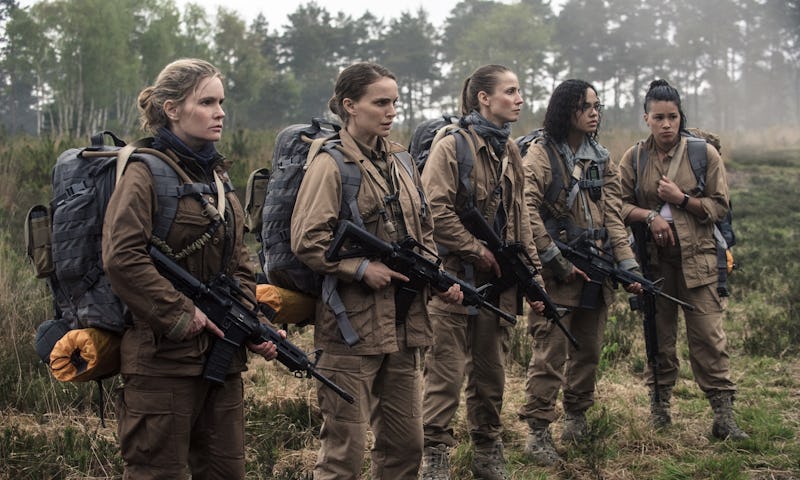 Paramount Pictures / Skydance
Annihilation is the kind of science fiction film that refuses to give you all the answers. Alex Garland's adaptation of Jeff VanderMeer's novel follows four women's journey into the Shimmer, an extra terrestrial phenomenon manipulating all the nature in its path. It's interesting, complex, and challenging, and yet it's nowhere near as confusing as the details of its unorthodox release. The movie was released via Netflix internationally, but audiences in the U.S. are still waiting for the movie to be available online. Annihilation will come to Netflix U.S. eventually, but when exactly the film will be available for a nice evening of Netflix and chill is as much of a mystery as the Shimmer itself.
Annihilation was released in theaters in late February in the United States and Canada; however, in Europe, South America, and Asia the film bypassed theaters entirely, premiering directly on Netflix. Since its late February release, the movie, which no doubt surprised distributor Paramount Pictures with a strong critical response, has slowly dwindled at the theaters, leaving fans anxious to have the movie at their fingertips. Taking the film's Netflix international release into account, it would make sense for the film to be on an accelerated path towards streaming on site's U.S. version. Big studio films normally take about a year or so before they finally make their way to Netflix Instant Watch, but it's likely Annihilation will make it there long before 2019.
No official Netflix premiere date has been set for Annihilation — the movie's page on the website just lists the release date as "upcoming." Over a month after the film's theatrical release, the film is still playing in a handful of theaters, which means fans will have to wait a bit longer before getting it via Netflix. Moreover, the film is now scheduled for an April theatrical release in China, which could delay the film's Netflix arrival even more. Distributors are likely not going to release the rights to the site until they have made every penny of theatrical revenue possible. And believe it or not, that's actually a good thing.
Garland, best known for his hit sci-fi film Ex Machina, was not happy with Paramount's decision to sell international distribution rights to Netflix. "We made the film for cinema," the director said in an interview with Collider. Shows like Netflix's Stranger Things are specifically produced for streaming, which means for smaller screens, but Garland's film was made to fill a big screen. "One of the big pluses of Netflix is that it goes out to a lot of people," he explained. "So it's got pluses and minuses, but from my point of view and the collective of the people who made it — [it was made] to be seen on a big screen."
In theory, if logic serves, the longer Annihilation stays in theaters, the longer it will take to get to Netflix, so if fans want to respect Garland's vision for the film, then they have to be willing to wait a little bit longer. The movie will, of course, eventually make its way to Netflix in the U.S., allowing fans to examine every single frame of science fiction and fantasy to look for clues about the Shimmer. But until then, audiences can still catch Annihilation in theaters, thankfully.
The Paramount-Netflix deal might be revolutionary in the film world, but if you want Garland to have the ability to make another studio science-fiction film , then supporting Annihilation at the box office is the way to go. Give this movie your money, and then watch it again and again from the comfort of your own home once it comes to Netflix.