Here's The *Truth* About When Ariana Grande's Next Album Will Be Released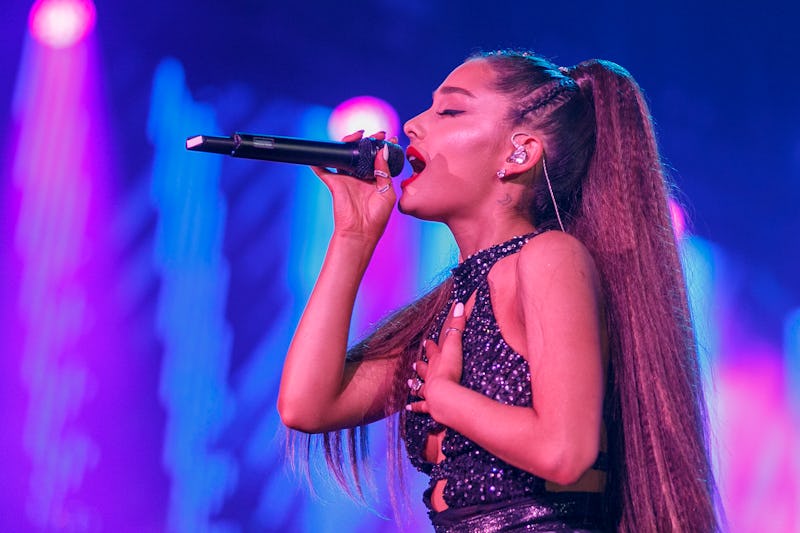 Rich Polk/Getty Images Entertainment/Getty Images
Ariana Grande has been smashing records with her latest single thank u, next which was written after her recent break up with her ex-fiancé Pete Davidson and references three other ex-boyfriends. It also marks the start of a new era, with an album rumoured to be dropping very soon. So when will Ariana Grande's new album be coming out in the UK?
Well, I have an official line after reaching out to Grande's reps. Her publicist has confirmed that while we don't have an exact date yet for her new album, there may well be some news pretty damn soon. "Actually no set release date as yet, sure things will become clearer soon," her rep explained. Grande has also hinted at a lot of details about the upcoming album on her Twitter to loyal fans.
First, she confirmed what her rep had said, saying although the album isn't finished just yet, it was going to be wrapping up in no time. When a fan on Twitter asked when her new album would be dropping, she replied: "i've seen rumors that it's coming friday [Nov. 9] but it's not yet .... we still finishing things up." This may come as a bit of a surprise to fans, who have only just had a new album from the star in August of this year: Sweetener. She also only recently announced tour dates in the U.S. and Canada for the album, too.
But as if we needed any more confirmation that a new record would be coming soon, the singer has also been sharing photos and Insta stories from the recording studio, making it very clear she's up to something.
Grande also stated on Twitter that her upcoming album would not feature duets and collaborations, but would be a straight-up Ariana classic:
And she then hinted that the album may be named after her recent single, thank u, next. Or is that what this tweet means? TBH, who really knows, things are getting a little cryptic in Grande world.
Very eagle-eyed Ariana Grande fans also spotted that when she first unveiled the name of her new single on Twitter with a screenshot of her music library, the single was '12 of 12', perhaps indicating 12 brand new tracks to make up a new album. Presumably this also means that thank u, next is the last track.
It's unclear whether this unexpected album was always set to be released so soon after Sweetener, or her recent breakup with SNL comedian Pete Davidson has had some effect on the timeline and content. Grande's Twitter activity has made it pretty clear however that channeling her emotions and hurt after her recent break-up into new music has really helped her get through this tough time. She has been consistently thanking fans and hinting at how empowered the success of her new single has been making her feel.
Thank u, next has already broken Spotify's record for the single-day streaming number, Forbes reports. It had already surpassed 40 million streams by day 4 after its release.
Grande also recently released the music video for her track Breathin' and performed on the Ellen DeGeneres show. She's a busy lady, that Ariana.