Democrats Have One Last Plan To Stop Betsy DeVos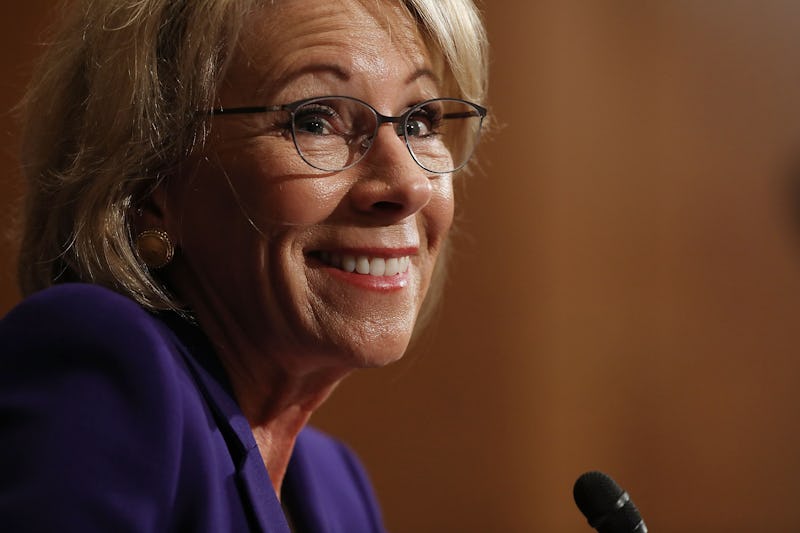 Chip Somodevilla/Getty Images News/Getty Images
President Donald Trump's nomination of billionaire philanthropist Betsy DeVos for Secretary of Education has inspired controversy near and far, with Democrats in particular criticizing Trump's choice. But when will DeVos be confirmed?
As of now, Democrats are continuing to hold the Senate floor during the remaining hours before DeVos' expected Feb. 7 confirmation vote. So far, all 46 Senate Democrats, two Senate independents, and two Senate Republicans, Susan Collins of Maine and Lisa Murkowski of Alaska, have stated they will be voting against confirming DeVos. While this creates a 50-50 tie, Vice-President Mike Pence, in his capacity as president of the Senate, would break the tie with his vote and have DeVos confirmed. This would be the first time for a vice president to vote in the Senate since Dick Cheney voted on a procedural matter in 2008, The Washington Post reported.
Sen. John Cornyn of Texas told The New York Times that the current Senate session will not end until the confirmation of DeVos and three other Trump nominees: Rep. Tom Price of Georgia as head of the Department of Health and Human Services; Sen. Jeff Sessions of Alabama as attorney general; and Steven T. Mnuchin as Treasury Secretary. It might involve burning "a little midnight oil," Cornyn told the Times. On the other hand, while holding the Senate floor, Democrats continue to speak about their objections to DeVos and the other nominees.
Despite the odds not being in their favor, Democrats still have hope that they can prevent DeVos from becoming the nation's education secretary. "We may, in fact, have an additional Republican colleague voting 'no,' which would stop her tomorrow," Democratic Sen. Debbie Stabenow of Michigan told CNN's Erin Burnett on Feb. 6.
Still, Stabenow acknowledged that Democrats might not be able to prevent the confirmations of DeVos and other contended Trump cabinet picks due to their lack of numbers. "We know as Democrats we don't have the votes to stop these nominations by ourselves," she told Burnett, "but people — parents, teachers, administrators, community leaders across the country — have power and are weighing in."
Stabenow is right; more than a million people throughout the United States have expressed their concerns about DeVos' nomination in trackable ways. As of Feb. 2, more than 1.1 million people had contacted their lawmakers to oppose DeVos' nomination through the National Education Association's online form. Additionally, a Change.org petition titled "Do not confirm Betsy DeVos as Secretary of Education" has close to 425,000 supporters as of Feb. 6.
It'll likely all come down to the Senate's Tuesday vote, though we'll have to wait and see whether those opposing DeVos have managed to recruit more Senators to their numbers.