'Frontier' Season 2 Is Already A Go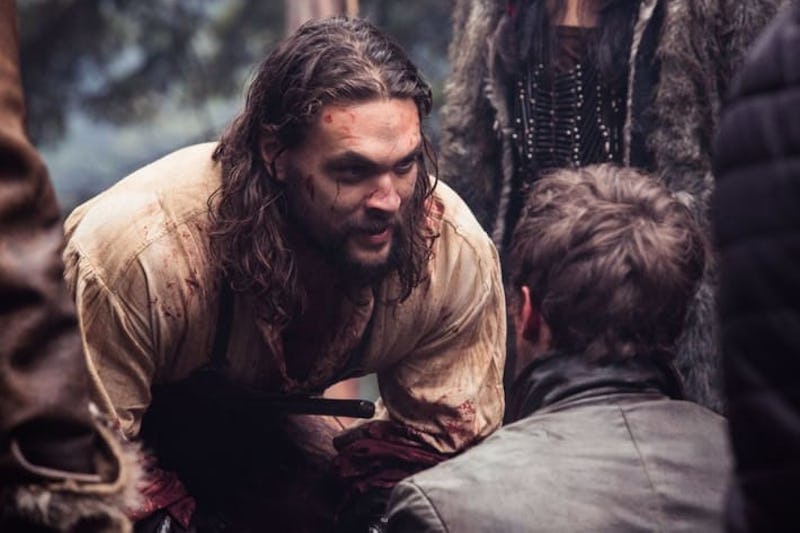 Netflix
Netflix's new Jason Momoa-led drama Frontier is slated to hit the streaming site on Friday, Jan. 20. And, fans can marathon the Netflix series with peace of mind, knowing that the new show is guaranteed more episodes. That's right, Netflix's Frontier has already been renewed for Season 2, according to IndieWire.
Frontier takes place in 18th century Canada during the height of the fur trade. According to Deadline, Frontier is an action-packed historical drama that follows warring factions fighting for control of the fur trade. While there aren't a ton of details yet about a second season, it has already been confirmed that Jason Momoa will reprise his role of Declan Harp, "an ambitious, confident, charismatic, and untamed man with a reputation for being a ruthless trader, driven by lust and revenge," according to The Hollywood Reporter. Momoa's character is a part-Native American, part-Irish outlaw vying to rupture the Hudson's Bay Company's monopoly on the Canadian fur trade.
Frontier's first season has already aired on Discovery Canada, with the first of Season 1's six episodes airing on Nov. 6, 2016. Frontier is Discovery Canada's first-ever original scripted drama, and the show's October renewal demonstrates the network's unwavering confidence for the series. The Hollywood Reporter article mentioned above published a quote from Ken MacDonald, VP and GM at Discovery Canada, discussing his decision to renew the network darling. MacDonald said:
"As we started to see this cinematic, well-cast and meticulously produced series come to life as we'd dared imagine for Season 1, we knew we'd created a uniquely immersive world and story that begged for expansion to a second season ... Our decision to begin filming another six episodes before the series' world premiere is a testament to our confidence in Frontier's world-class storytelling."
The Hollywood Reporter piece also stated that the series was created by Peter Blackie and Rob Blackie and produced by Jeff Fierson and Brad Peyton. So far, Fierson and Peyton are reported to return to direct the Season 2 premiere. According to a press release, Frontier Season 2 is slated to air later in 2017 on Discovery Canada. Netflix will subsequently handle Season 2's international release.
So, when you marathon Season 1 this weekend, rest assured. There are more episodes of Frontier on their way.