The Kanye & Drake Collab Still Isn't Here Yet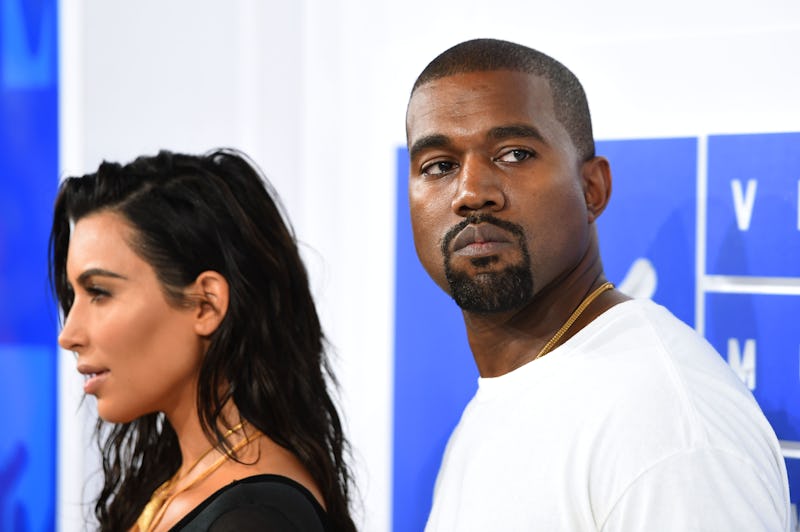 Larry Busacca/Getty Images Entertainment/Getty Images
If you've been asking yourself when the Kanye and Drake collaboration "Lost Hills" would drop, you're going to have to keep asking a little longer. Despite one promising-looking Yeezy Season 5 invite, it's not here. If you're totally new to this, let me back up some. "Lost Hills" has been being teased for a while, with nobody knowing if the collaboration would come in the form of a song, an album, or a fashion line. The latter wouldn't have been as random as it first sounds, given the fact that Drake has his own clothing range, OVO, sported by the likes of Sasha Obama. However, at least according to the hints fans had, music looked like the obvious option.
In August 2016, Drake brought Kanye onto the stage at OVO Fest in Toronto. Kanye asked, "Is y'all ready for this album?" and, when the crowd seemed confused, he clarified, while gesturing at Drake:
"I wasn't talking about Pablo. I wasn't talking about VIEWS. I wanna ask y'all right now: Are y'all ready for this album?"
Then, when he appeared in Vogue in September 2016, the interviewer asked Kanye about an L.A. billboard that paired his logo with Drake's. The rapper said,
"We're just working on music, working on a bunch of music together, just having fun going into the studio. We're working on an album, so there's some exciting things coming up soon."
The plot thickened when the supposed invites for Yeezy Season 5 dropped in suitably hype-building style. The long-sleeved t-shirt invites sported the words "Lost Hills" and Reddit, which has been waiting far too long, got very intense about the possibility of new music from Kanye.
But, despite the above, the hotly anticipated new music is nowhere to be found. Even the reporter who appeared to first break the news later apologized in the tweet below:
According to Pitchfork, the soundtrack of Kanye's Yeezy Season 5 show consisted of The-Dream singing J. Holiday's "Bed" — no Drake collab. It's been a full half year since Drake invited Kanye to join him on stage, and while this isn't actually a Frank Ocean amount of time to wait for a collaboration from the pair, given the duo's combined charisma and number of insanely devoted fans, it feels like life's been moving in slow motion ever since Kanye's first announcement.
It would have been a smart move on Kanye's part if he had chosen to drop the record on Wednesday. Given the critical reviews of Yeezy Season 4 following a controversial show in which models fainted in the heat, this was a great way to refocus the fashion world's attention back on Yeezy. After all, how can you ignore a new track from Drake and Kanye? Go ahead, try. You just can't.
So, sure, it's a huge disappointment that we didn't get the record that we'd been hoping and waiting for. But, given Kanye's talent for spectacles and shows, you can be sure that if he didn't choose to drop the record at his fashion show, he's going to release it somewhere even more dazzling and unexpected. And I, for one, can't wait.