'Kim's Convenience' Season 3 Could Be Coming To Netflix Sooner Than You Think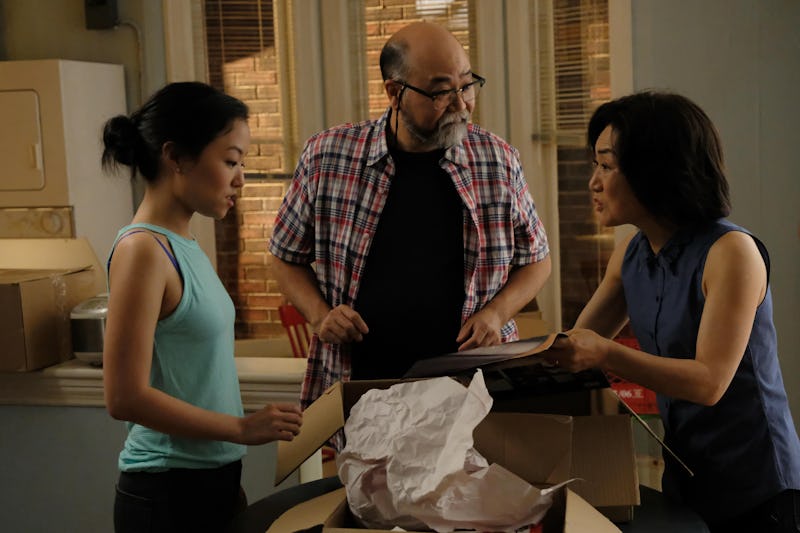 CBC
If you discovered and loved the Canadian comedy series Kim's Convenience on Netflix this past summer, you won't have to wait much longer to see Appa, Umma, Jung, and Janet in brand new episodes. On Thursday, Nov. 1, CBC announced that Kim's Convenience Season 3 will premiere in Canada on Jan. 8, 2019. But for the fans who live outside of Canada, when Kim's Convenience Season 3 will be on Netflix, however, may not be as soon. (Netflix did not provide a comment for Bustle when asked about when the series will come to the streaming service; Bustle also reached out to CBC for comment, but has not yet heard back.)
The heartfelt comedy series features an all-Asian cast as it centers around the Kim family, who own the titular convenience store in Downtown Toronto. Kim's Convenience made its Netflix debut in July 2018, with the streaming service picking up the first two seasons of the TV show — Season 1 aired in Canada in Fall 2016 and Season 2 premiered on CBC in Fall 2017. If Kim's Convenience Season 3 follows the current pattern, Netflix viewers might not be able to tune into the new episodes until 2020 — but it's important to take into account that the major gap between the original Canadian airdates and Netflix picking up the series could be shorter this time around, since the series now has a home and fanbase on the streaming service.
After the first two seasons of Kim's Convenience dropped on Netflix this past summer, the comedy got rave reviews from the New York Times and Vulture, among many other media outlets. It has become the most talked about Canadian TV series since Degrassi.
Kim's Convenience, though, has been a major hit in Canada since its premiere. In 2016, the series was Canada's No. 1 new comedy and it has won several Canadian Screen Awards, including Best Lead Actor for Paul Sun-Hyung Lee (who plays Appa) and Best Comedy Series. Dedicated fans of the show, who are known as KimBits, have launched a Kim's Convenience specific-podcast and have arranged fan meetups — with some being attended by the series' stars.
Kim's Convenience follows Mr. and Mrs. Kim (played by Lee and ​Jean Yoon), mostly referred to as Appa and Umma (which is Korean for dad and mom, respectively), as they manage the convenience store and interact with their adult children: Janet (Andrea Bang), a college student studying photography, and Jung (Simu Liu), a 20-something who has been estranged from Appa since he was a rebellious 16-year-old who stole money from the Kim's store.
Since then, Jung rebounded to become an assistant manager at Handy Car Rental and obtain his GED. In the Season 2 finale, Appa and Jung seemed to finally make progress toward being on better terms — until their tempers flared at each other once again at Jung's GED graduation party. It was a heartbreaking moment not just for Umma, who has wanted her family to be whole again for so long, but for fans, who have been rooting for a father-son reunion.
Kim's Convenience provides one of the most complex, thoughtful, and nuanced portrayals of a family on TV right now. And the best news? You can catch up on the series on Netflix right now before Kim's Convenience Season 3 drops on Netflix — hopefully sooner than later.