Why You'll Have To Share Your Details With Pub Owners Under New Coronavirus Rules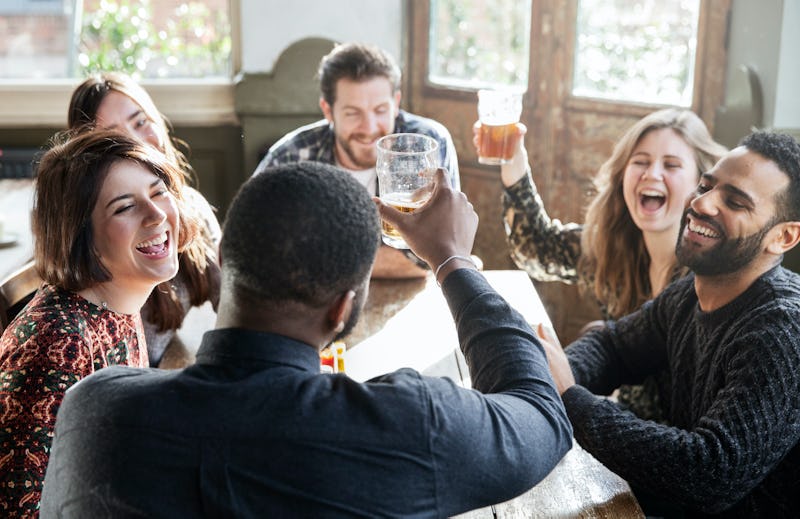 Henrik Sorensen/Getty
Before the nationwide coronavirus lockdown went into effect in the UK, pubs were among the first venues to be closed. Now the government has offered a suggestion of when certain parts of the hospitality industry might be able to get back to business. But when will pubs reopen in the UK?
On May 10, as part of his announcement about the easing of certain lockdown restrictions, the Prime Minister said that some sections of the hospitality industry in England may open again in July. This would be highly dependent on the infection rate lowering significantly, he said. The next day, May 11, Foreign Secretary Dominic Raab told Sky that "from July 4, at the earliest, we'll look at other sectors and that will include hospitality, personal care and hairdressers."
On June 23, Prime Minister Boris Johnson confirmed that pubs in England will be permitted to reopen from July 4. Establishments will be instructed to enforce certain restrictions to help minimise the risk of coronavirus infection, which includes changes to shift patterns, more use of hand sanitiser, and mandatory table service. A government spokesperson also later confirmed the guidelines are due to be updated soon.
In the plans announced by Johnson, it was revealed customers in pubs will be required to share personal details with staff in order to ensure easier contact tracing if another customer tests positive for COVID-19.
In Scotland, beer gardens will be permitted to reopen from July 6, and pubs will be allowed to use indoor areas as of July 15.
In Wales, the next review of lockdown measures is scheduled for July 9, and the Welsh government have confirmed talks with the hospitality sector regarding a "potential phased" reopening of pubs will take place.
Northern Ireland is also preparing to ease lockdown restrictions within the country's hospitality sector, and pubs will be allowed to reopen from July 3.
This article was originally published on