Don't Forget That Puerto Rico Is Still Picking Up The Pieces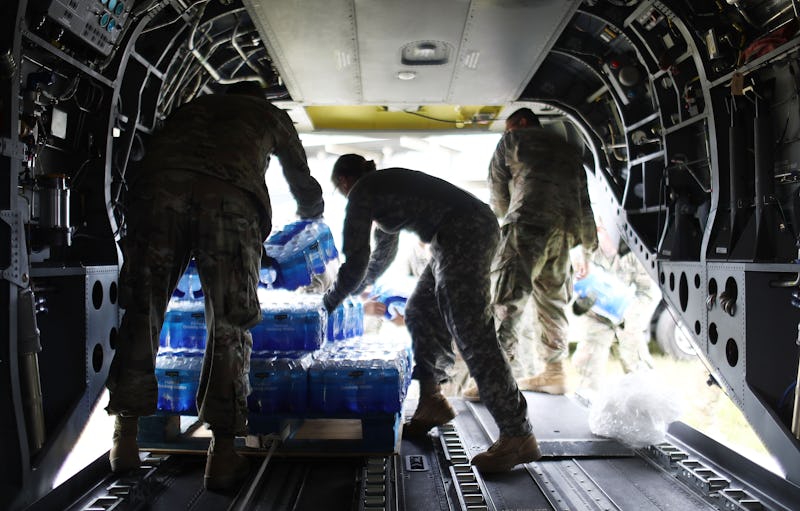 Mario Tama/Getty Images News/Getty Images
The news cycle is moving farther and farther away from Puerto Rico. The relief effort, however, is far from over. In fact, Puerto Rico's path to recovery is still very unclear to anyone on the outside looking in: There are so many areas to address, each one more urgent than the next, that progress looks slow even in the areas where the most rapid response has taken place. While you can't discount the work that each of a myriad of organizations is doing separately, it's hard to see progress when there's still so much to accomplish.
It's now been just under a month since Hurricane Maria ravaged the U.S. territory of Puerto Rico, and most of the island is still in the dark — quite literally. Currently, just over 20 percent of the island's inhabitants have power, although Puerto Rico Gov. Ricardo Rossello has promised that 95 percent of the island will have power by the end of the year. Much of the work behind this effort has fallen to the U.S. Army Corps of Engineers, which received $577 million from FEMA to get Puerto Rico's grip back on track.
"Within two short weeks, USACE has essentially set up a mini-district with engineers, contracting reps, program managers, admin, support staff, quality assurance specialists, etc.," USACE representative Jeffrey Hawk tells Bustle. Among the supplies they've brought in are "62,000 utility poles and enough wire to connect New York to Beijing," Hawk says.
FEMA's assignment to the USACE was to lead the charge to get Puerto Rico lit up again, but they're working together with the Puerto Rico Electric Power Authority, the Department of Energy, and FEMA itself to do so.
You've probably heard a lot about Puerto Rico's power grid, but Hawk explains that truly fixing it means working on four fronts more or less simultaneously. The USACE has to, according to Hawk, "provide temporary emergency power and spot generation for critical facilities like hospitals and shelters; ensure adequate generation at the power plants; reinstall and repair transmission lines, and; restore and repair distribution lines, ultimately providing power to local residences."
It's no wonder, then, that it's a slow process. But this doesn't make the situation any less serious. While it's one thing to merely be lacking light, this is connected to a whole slew of serious and often life-threatening problems. Hospitals are operating on generators and using minimal power, which means that at times they've been overheating and unable to safely store medical products, like insulin, that need refrigeration. And while hospitals are still threatened by random power outages, patients who rely on lifesaving machines like ventilators are in great danger. CNN also reports that a third of the island's inhabitants are still lacking clean water, at least partly because water pumps into homes require energy.
The House did pass a $36.5 billion emergency relief bill, which will provide Puerto Rico and other hurricane-stricken regions with federal funds to help the relief effort. However, this is far less than the $85 billion the island is expected to require for a full recovery, and officials both on the ground and in Washington think that the government isn't doing enough to help the citizens of Puerto Rico. Where the government response hasn't appeared, charitable organizations have been stepping up to the plate, often to great effect.
For example, World Central Kitchen, hardly the world's biggest NGO, has brought together chefs around the island of Puerto Rico to serve well over 1 million meals to people who need them. In order to reach the more remote villages, they've even deployed an army food trucks. This is run entirely off donations, though, so it's not a lasting solution.
Another organization on the ground is Save the Children, which was one of the first humanitarian groups to arrive and which has developed a strategy to stay there for at least 18 months supporting children.
"In addition to bringing in needed supplies such as hygiene kits to address immediate needs, we are planning for children's emotional and academic recovery," Greg Ramm, Save the Children Vice President for Humanitarian Response, tells Bustle. "We are working hard to navigate the complex response setting where infrastructure is still down and needs are currently greater than capacity."
Ramm tells Bustle that Save the Children's response has included everything from hygiene kits to programs meant to keep kids stimulated and engaged before they can return to school to their Child-Friendly Space program, which aims to give kids a safe, sheltered, and supervised area where kids can begin to recover both physically and emotionally. The 18-month strategy that they have in place is possible because of donor generosity, Ramm says, but he also emphasizes that the government response he's seen simply hasn't been enough.
"Those with the greatest resources, including the U.S. government, need to do more," Ramm says. "The situation in Puerto Rico remains dire. A month after Hurricane Maria, critical supplies and services still are not arriving quickly enough. And needs are greater that the capacity of the collective response."