This Is The Reason Roy Moore Is Refusing To Give Up The Alabama Race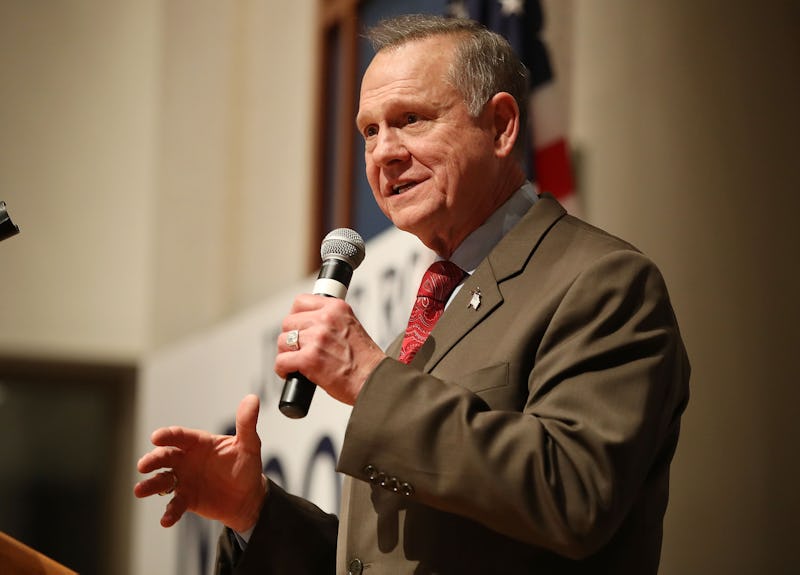 Joe Raedle/Getty Images News/Getty Images
In the wake of a surprising defeat at the hands of Democrat Doug Jones, Republican Roy Moore still hasn't conceded the Alabama Senate race. Even after the election was called for Jones on Tuesday night, Moore said the race was "not over," signaling that he'd seek a recount of the votes. He added that his supporters should "wait on God and let this process play out."
A recount likely wouldn't help Moore, though, considering that Alabama's secretary of state, who is in charge of certifying the vote, has said it's "highly unlikely" that anyone but Jones would be certified as the winner. As of Wednesday afternoon, it also doesn't appear that a recount will be triggered by law. Alabama law says that a recount automatically takes place when an election is won by a margin of fewer than 0.5 percent. So far, unofficial returns from the Alabama race show Jones winning by more than 1.5 percent of the vote.
After Jones celebrated his victory in a speech to supporters on election night, Moore took the stage at his own campaign rally and told his supporters to "realize when the vote is this close that it's not over. And we still got to go by the rules about this recount provision," he continued.
Former Arkansas Governor Mike Huckabee responded to Moore's comments on Twitter Tuesday night, writing:
Roy Moore won't concede; says will wait on God to speak. God wasn't registered to vote in AL but the ppl who voted did speak and it wasn't close enough for recount. In elections everyone does NOT get a trophy. I know first hand but it's best to exit with class.
From the beginning of the campaign process, Moore was seen as a radical choice. Just last week, he faced controversy over September remarks in which he suggested America was last "great" prior to the Civil War (i.e. back when slavery was legal). Prior to campaigning for the Alabama Senate seat, Moore was ousted as a judge twice: once for defying a federal law legalizing same sex marriage, and a second time for erecting a monument to the Ten Commandments in a public building. In another separate instance, he had argued that Muslim officials should not be allowed serve in Congress.
But it was the more recent allegations that likely proved to be a death knell for his campaign. In recent months, eight women came forward to describe Moore's questionable behavior toward them when they were young women. One of the women claimed that Moore had sexually assaulted her when she was 14 years old. Moore dismissed the allegations, saying he had never even met some of the women (despite having allegedly signed their high school yearbooks).
But Moore's defense wasn't enough for many voters and many members of his own party. During his Tuesday night speech, Moore argued that his campaign had been "painted in an unfavorable and unfaithful light. We've been put in a hole, if you will."
In suggesting the race still wasn't over, despite his loss, Moore quoted scripture, while his campaign manager called on his supporters to pray for him and suggested the election results would eventually be recounted. Despite there likely being no automatic recount of Tuesday's election results, candidates of either party can request a recount with one major stipulation — they must be willing to pay for the recount themselves. For the Moore campaign, that could be a problem.
Democrat Jones raised more than double the campaign contributions as Moore ($11.5 million versus Moore's $5.2 million), according to campaign finance data. Whether Moore's campaign has the money to finance a recount remains to be seen.