Nathan Will Have Plenty Of Time To Text Issa Back Ahead Of 'Insecure' Season 4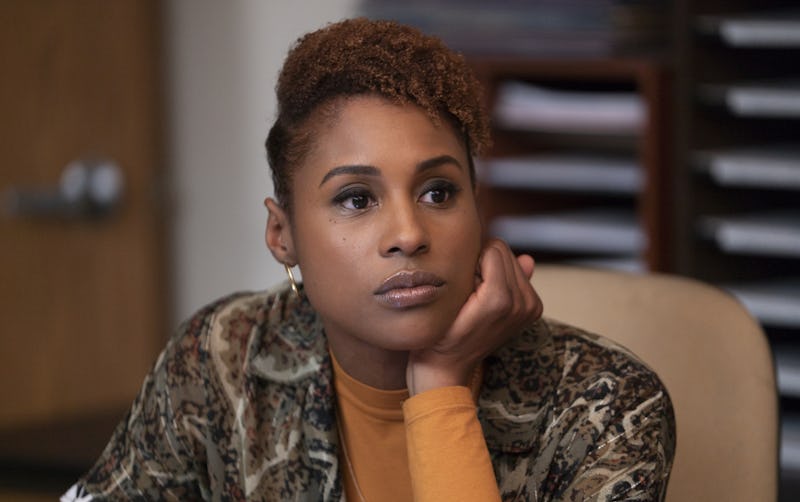 Merie W. Wallace/HBO
HBO's Insecure has always been a fan favorite, but this season, it feels like the series has turned into a major weekly Twitter event. It's the show everyone is talking about, and it's already been renewed for another year — so when will Season 4 of Insecure premiere?
There's no word on a precise date yet for Season 4, and previous seasons have returned to TV anywhere from October to July to August. So it's anyone's guess when exactly the powers that be will bring Issa's adventures back to screen, but new drama is definitely in the works. Creator Issa Rae, who also plays the main character on Insecure, announced the renewal on Twitter earlier this month, with a video that promised "the glow-up continues." Needless to say, fans in her replies were ecstatic.
In case you've been sleeping on this half hour dramedy for some reason, let me catch you up. The show follows Issa and her best friend Molly as they navigate the stresses of dating in Los Angeles and figuring out what they want to do with their lives, and no matter who you are, you can find something to relate to in their drama. The story could realistically go anywhere from here, as Issa's undergone some big changes in Season 3, and Rae is a powerhouse to be reckoned with.
In an interview with Refinery29, Rae talked about her creative process, and how she's learning with each new episode of TV she produces. "As a creative you're just like, 'I want to write stories and tell them. I don't know what that entails.' I feel like from the internet, you have to wear so many hats to market, to get your show out there, to get viewers," she told the outlet. There's so many things that you're doing behind the scenes that's just more than writing and telling stories. So in that way I've just become more savvy of treating every episode like a learning experience, because I never went to film school formally."
Rae also told Deadline in a pre-Season 3 interview that she is aware of the hype surrounding Insecure, and the praise it receives for bringing more diversity and inclusivity to mainstream TV. But she tries not to let it get to her head. "You know, I kind of shut it all off because I'm always just deathly afraid of feeding into or believing the hype, and especially my own hype," she said, adding that it was the viewers' personal reactions that resonate with her the most.
"I think for me it's about from time to time, people will come up to me and say what the show means to them," she continued. "I just read a fan letter today and I was like, 'This is really nice.' I'm so grateful. I credit Shonda [Rhimes] for being able to open the door for black actresses, and even just black women having this sort of golden moment in terms of shaking the culture."
Rae is certainly shaking the culture — there's no doubt about that — and as she says she's learning with every week of creating, her best work is likely still ahead of her. Insecure is a groundbreaking series in more ways than one, and we'd all be lucky to watch it flourish even further. As soon as they see how the conclusion of Season 3 plays out, viewers will be immediately anxiously await the next installment.