'Supergirl' Is Taking A Break Before Zooming To Its Finale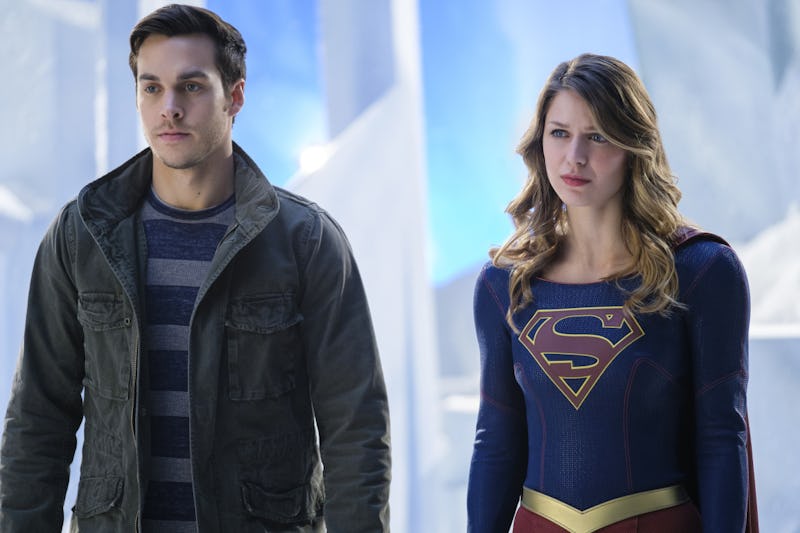 Robert Falconer/The CW
Supergirl has continued to introduce new characters, villains, and complications, even as the second season starts to wind down. But now that the momentum has been paused with a break between new episodes, you may be wondering when Supergirl Season 2 will return. Unfortunately, there is a bit of a wait ahead, because the show is going to be taking a spring hiatus before the final five episodes bring Season 2 to an end. The trailer for "Ace Reporter," which is the next new episode after March 27's "Distant Sun," explicitly says Supergirl will return on Apr. 24.
The Season 2 finale of Supergirl will air on May 22. So that means when the show returns, it will be heading towards the finale at a speed that rivals Kara's reflexes. Supergirl has just a few weeks to wrap up several storylines: what's going on with Cadmus; whether the evil, alien-hating Lillian has been stopped for good; whether or not Rhea will return to Earth in order to take back her son and get her revenge; and if the Kara/Mon-El relationship is long for this planet.
The second season has made time for lots of recurring, secondary storylines, like the blossoming love story between Alex and Maggie, the show's first real dip into LGBT representation. And it looks like "Ace Reporter" will bring back some of Kara's investigative skills, as she attempts to piece together and track down someone who is aiming to unmask her and stop her from saving people. Having a secret identity has posed lots of problems for Kara this season — it threw up many roadblocks when she was trying to rescue aliens from Lillian's mass deportation.
And it's possible that even a character once thought good could ultimately turn evil — some comments made by executive producer Andrew Kreisberg to Entertainment Weekly hint that Lena Luthor could become a bad guy. "She's passed the goodness tests that have been placed in front of her up until now, but you always have to wonder if there is going to be a bridge too far for her where she will inherit the Luthor mantle of being a true enemy for Supergirl," Kreisberg said in an interview during the show's winter hiatus. Since then, Lena has remained an ally, but perhaps a late-season twist will set her up as Season 3's big bad. Katie McGrath was promoted to series regular for Season 3, according to Deadline.
And in the interview with DC All Access above, stars Melissa Benoist and David Harewood share some more details of what will happen when Supergirl returns in late April. "We're building up to a massive war," Harewood explains. "Perhaps the enemy of my enemy is my friend," he adds, which may be a hint that in addition to a possible good-guy-gone-bad, there may be a bad guy who goes good. So even with the season heading to a close, Supergirl will return with plenty more surprises in store between then and the Season 2 finale. You'll just need some otherworldly patience in order to wait to find out.