When Will The MAC Metallic Lipsticks Be Available?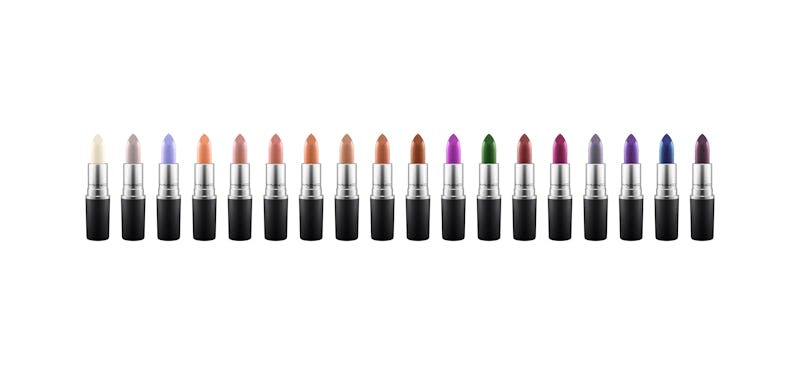 If you've been in the mood to rock a bolder lip as the weather inches its way closer to spring, never fear: MAC has you covered with their new matte, metallic line. But when will MAC Metallic Lips be available? You won't have to wait too long to rock chrome lips.
The whole idea behind the collection is to give you a molten pout. Each shade brings on a metal-plated look, and introduces a bevvy of colors that aren't as easy to find at department store counters or drugstore aisles. According to a press release from MAC, "Rich colour melds with smooth pearlized chrome, and is available in a luxurious formula in a full spectrum of copper, bronze and titanium colour-infused shades. Vibrant, intense, explosive: A little alchemy goes a long way."
If that doesn't make you want to bounce in your seat, then I don't know what will. It sounds amazing, and it will be available in-store and online March 23 through May 4 so you'll have to move fast to get your foil fix.
While it might sound like only "traditional" metallics are included (and no doubt a gold pout is going to look incredibly chic,) it's important to note that there are so many other shades available in the line as well.
All together there will be 18 different shades, ranging from a cold silver and frosted pink, up to a deep green and metallic blue. There will be a color for every aesthetic and comfort level.
Also, some of the shades will double as highlighter, so you're getting a lot of bang for your buck. As Allure pointed out, "Cher Webb, a senior makeup artist for M.A.C., showed her Instagram followers how Modern Midas (a muted gold with pink and green duochrome) can be blended atop cheekbones with a fan brush for radiant yet dewy effect."
If you like touching up your makeup throughout the day, then this will allow you to just throw one product into your purse rather than two — you have lipstick and highlighter all rolled into one.
Mark your calendars for the end of March 2017, because this definitely isn't a collection to miss.
Images: MAC