Here's When George & Charlotte Will Have To Start Bowing To The Queen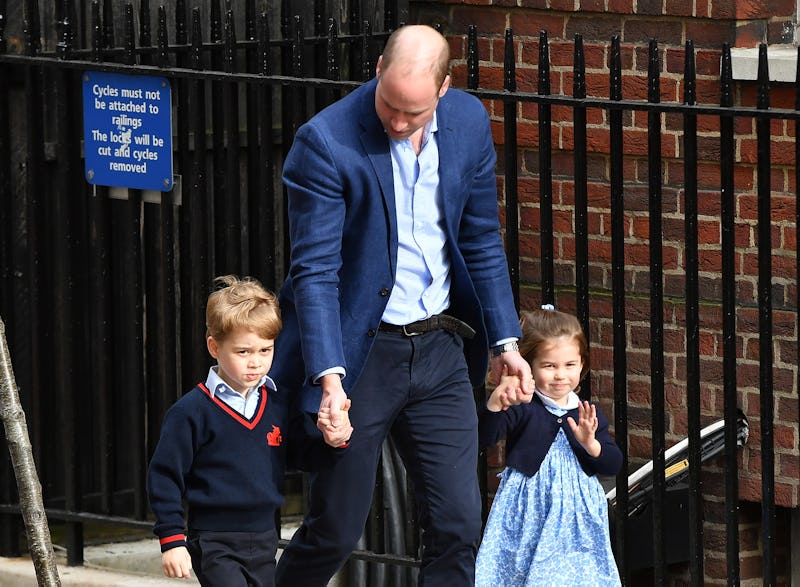 Gareth Cattermole/Getty Images Entertainment/Getty Images
Having your great-grandmother be the Queen is pretty wild, and soon, the youngest British Royals will have to start treating her as such. Well, at least in one official sort of way. Prince George will start bowing to the Queen soon, and when they're older, so will Princess Charlotte and Prince Louis. But even with this new responsibility, they'll still be Queen Elizabeth's silly-face-making great-grandkids.
According to Hello!, Prince George will probably start bowing to the Queen soon, if he hasn't already, since he turned five on July 22. Royal expert Marlene Koenig told the publication that young royals start bowing or curtsying "certainly by age five." And when this starts, they'll only have to bow to the Queen. "The only person they will curtsy or bow to is the sovereign," Koenig said. "A royal highness does not curtsy to another royal highness. Yes, there are articles that state this, but it is not true." It's possible that George has already started bowing to the Queen in private, and since he's not seen in public too often (busy with kid stuff, you know), he just hasn't been spotting doing it. Sneaky!
Koenig continued, "Curtseying and bowing is etiquette, nothing to do with precedence. You bow or curtsy the first time you see the sovereign and then again when you leave. At Christmas at church, we saw the Cambridges and Prince Harry and Meghan curtsy and bow when the Queen arrived and left. Other royals including Charles did not because they had come from Sandringham and had already seen the Queen." This explains why when Kate, Will, Meghan, and Harry get together there isn't just a whole bunch of mixed up bowing and curtsying happening at each other.
For now, Prince George is the only one of Prince William and Duchess Catherine's children expected to start bowing to the Queen. Princess Charlotte is only three, so she has two more years, and Prince Louis was born only three months ago, so it'll be a quite while for him. (Rest while you can, Prince Louis!)
It's strange to think about the fact that George is — or soon will be — bowing to the Queen, especially if he doesn't yet know he will be King. It's unclear if at this point he still doesn't know, but reports recently circulated that claimed he still might not know he's in line for the throne. Many of these reports were based in part on an interview a Prince Charles biographer did three years ago, so obviously, a lot could have changed since then. But, either way, a 5-year-old can't possibly understand that much of what it means to be in line for the throne, and also might just think it's normal for everyone to start bowing to their great-grandma at age five.
Basically, being a member of the royal family is really weird, especially if you're the kid who will one day be the person being bowed to. It's a stressful thing to think about even if you aren't involved, so here, enjoy these pictures of George and Charlotte playing with a Slinky and rolling down a hill. They're still kids. It's fine. It's fine.