Here's When Trump's Transgender Military Ban Will Go Into Effect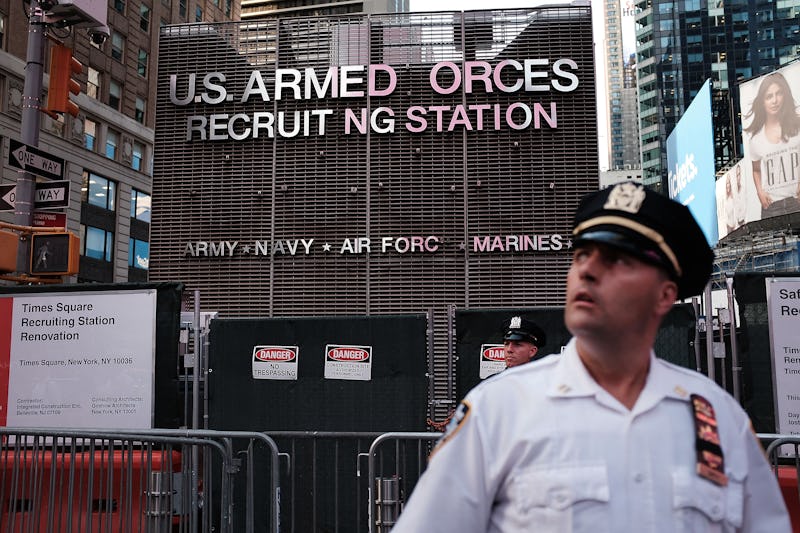 Spencer Platt/Getty Images News/Getty Images
When President Trump first tweeted about his ban on transgender troops serving in the military, there were a lot of questions about basically every aspect of it. A new Wall Street Journal report has now cleared up some air, however. We now know when the transgender military ban will begin — and the Pentagon's going to have to move fast, because Trump wants it to be implemented in six months.
Given the expected scope of the ban, the military is going to have a lot to do. The WSJ's report indicates that Defense Secretary James Mattis will be in charge of the operation, and he's got his job cut out for him. The ban would require him to not only bar any new transgender recruits from entering the armed forces, but also remove any trans members who are currently serving. The main thing he'll be taking into account, legally speaking, is each individual member's "deployability" — that is, their ability to take part in the most difficult parts of military service, like serving in a war zone or living for months on a ship at sea.
As the National Center for Transgender Equality has estimated that around 15,000 transgender people are currently in the U.S. military, the order that they be removed within six months could be quite difficult to manage — and could cause some serious complications if it ends up being carried out.
The memo also instructs the military to stop paying for medical care for transgender troops, as the costs associated with transitioning were what Trump pointed to as the reason he was implementing the ban at all. His tweets announcing the ban cited the "tremendous military costs and disruption" of transgender troops serving. (Research, however, has found that health care costs for trans service members would rise between $2.4 million and $8.4 million each year, or an increase of 0.04 to 0.13 percent for the military's health care expenditures.) According to the information out about the memo so far, it appears as though they're building a policy around that reasoning to the letter.
Even as the Trump administration begins the push to enact the ban in earnest, there are still people on both sides of the aisle who disagree with it strongly. The administration has already faced challenges in court over the ban, saying that it defies the Fifth Amendment.
It's also coming at an especially tricky time for many serving transgender people in uniform, as it was only in 2016 that the Pentagon declared that they could serve openly. Some people who came out only a year ago, believing it was finally safe, could now find themselves facing dismissal, all because of a line of reasoning that most people agree is not very sound.
Stopping transition medical care for transgender troops will hardly save the military any money — especially when you take into account the organizational struggles that will come out of putting the ban into place so quickly.