'The Walking Dead' Season 9 Has Some Major Shake-Ups In Store For All Your Faves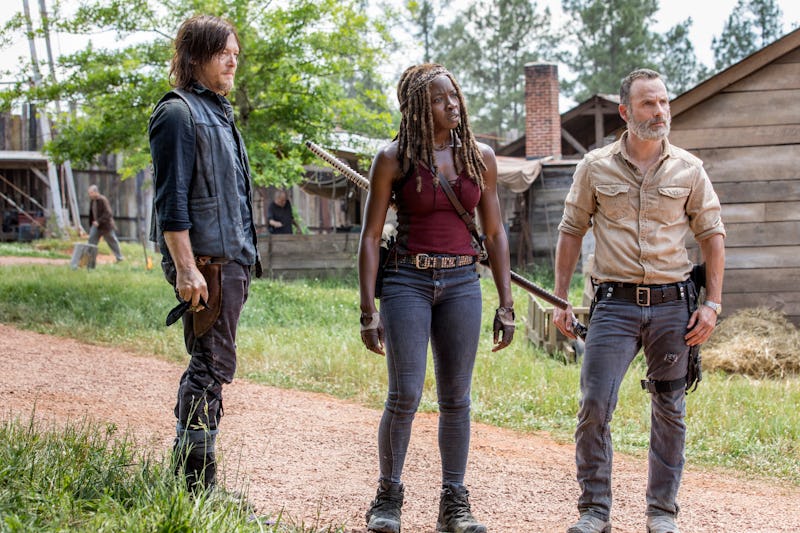 The Walking Dead / AMC
Season 9 of post-apocalyptic drama The Walking Dead was confirmed back in January this year. And as with last season, fans got a glimpse of the new series during July's Comic-Con. The first teaser trailer revealed that Season 9 is set to debut in the US on Sunday October 7th, but UK fans have been left wondering when they'll get to feast their eyes on new episodes. So when will The Walking Dead season 9 be on Now TV? Well if previous years are anything to go by, UK fans can expect to catch the season premiere just 24 hours later on Monday October 8th.
If this is indeed the case, the season should air in its usual 9pm UK time slot on FOX — and NOW TV subscribers can livestream each new episode on the channel. NOW TV customers will also be able to watch any missed episodes on the catch up service, however as it stands there is no option to download episodes.
I have reached out to NOW TV for confirmation, and as it stands there is no official announcement regarding an exact UK airdate.
During Season 8 of the AMC horror series viewers witnessed the exit of some key characters, including the emotional departure of Carl played by Chandler Riggs, and Simon, who is portrayed by Steven Ogg. One character, Morgan Jones, also left the series and made the transition into the show's spinoff Fear The Walking Dead.
These departures have got Walking Dead fans wondering who will actually be returning to the new series, and recently they have been given confirmation on some of the show's biggest characters. After speculation surrounding her place in the ninth series, Lauren Cohan, who plays Maggie Rhee, confirmed that she would in fact be returning for the upcoming season. However the capacity of her role isn't yet clear, leaving fans wondering whether or not Cohan will be coming back full time or through guest appearances. In an interview with Entertainment Weekly, Cohan said "I'm going back. There's a lot more Maggie story to tell." and when asked about the plot details of the new season, she commented "You know we're not allowed to tell you anything, but it's good".
Another fan favourite who is confirmed to be coming back for the ninth Walking Dead instalment is Daryl Dixon, played by Norman Reedus. According to Digital Spy, it's thought Daryl's character could be in for an exciting transformation into a lead role, following the departure of main character Rick Grimes at the end of the series.
Andrew Lincoln, who has portrayed Grimes since the show's debut back in 2010, confirmed at the 2018 San Diego Comic-Con that he would indeed be stepping down from the show. When speaking with Entertainment Weekly of his decision to leave The Walking Dead, Lincoln explained "I have two young children, and I live in a different country, and they become less portable as they get older," he continued "It was that simple. It was time for me to come home."
So it appears that Walking Dead fans are in for some major changes in the upcoming season, and I for one cannot wait to sink my teeth into it.