How Neil Armstrong's Sons Made Sure 'First Man' Got Their Dad Right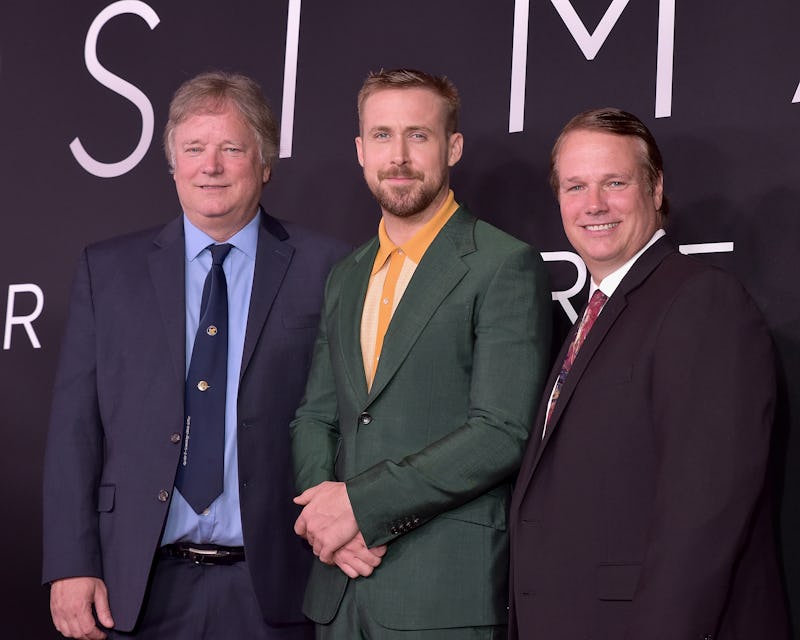 Shannon Finney/Getty Images Entertainment/Getty Images
First Man, which hits theaters on Oct. 12, tells the thrilling story of Neil Armstrong's history-shaping journey to the moon in 1969. As much as the movie focuses on Armstrong's (Ryan Gosling) experience with the Apollo 11 to outer space, it's also fully grounded on planet Earth, and that's mostly due to the portrayal of Armstrong's family. Claire Foy plays Janet Armstrong, Neil's wife, and a few different child actors play Neil and Janet's sons, Rick and Mark. Both parents in the family have passed away, but Neil Armstrong's sons actually helped bring their family's story to life.
After Armstrong became a worldwide icon as the first man to walk on the moon, the family moved to a farm in Ohio, The Daily Mail reported. The family had wanted to maintain a private life, and both Rick and Mark grew up to become software engineers while Neil taught at Cincinnati University. Mark is now married and has three kids. A biography published by Spacefest reveals that Rick still lives near Cincinnati, and he also has three kids.
Recently, the brothers talked to Collider about working as consultants on First Man. They said that they're both incredibly pleased with the end product and with Gosling's portrayal of their late father. "It's an incredible feeling, and when it all comes together with the visceral effects, with the score… and of course the performances it's really gratifying to see it come together in a way that's familiar and true for us," Mark said.
From the way that the Armstrongs describe the process of making First Man, it sounds like director Damien Chazelle heeded the input of the astronaut's sons. And Mark even appears in First Man as Paul Haney, who was the voice of NASA's Mission Control throughout the '60s.
Mark and Rick told Collider that they'd read early drafts of the First Man script a couple of years ago and they'd commented to the screenwriter, Josh Singer, that more of Neil's humor could be added in. Mark recalled telling him, "You've gotta get the humor in there, because people don't really know it and it's really an important part of who he was." Rick, the older of the two boys, approved of Gosling's delivery. "Dad was really a pretty funny guy and he had kind of a dry wit… So the scenes where Ryan is doing that, I'm like, yeah that really is kind of how dad would have said that," Rick told Collider.
After the astronaut passed away at age 82, the Armstrong family released a statement published by NASA's Washington Headquarters. It said, "The next time you walk outside on a clear night and see the Moon smiling down at you, think of Neil Armstrong and give him a wink." And they're following that edict themselves. In a Universal Pictures video interview, Mark said, "I look up at the Moon and I wink. I wink everyday and just as a way to connect with dad."
After you see First Man, you just might start winking at the moon too.