The Real 'American Animals' Guys Have Come A Long Way Since Their College Robbery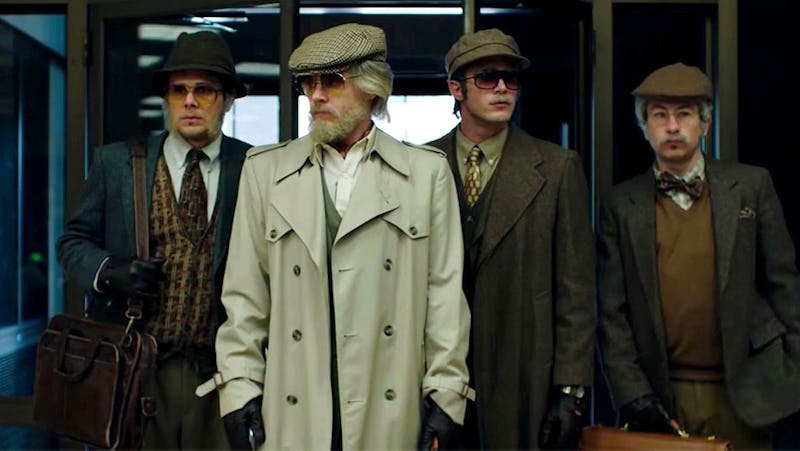 The Orchard
The new film American Animals is not your typical heist movie. Sure, at the center of the film is an ambitious and elaborate heist that wouldn't feel too out of place in one of the Ocean's movies, but it's actually quite a bit different. And that's because, unlike most heist movies, American Animals is based on a true story about four college kids who set out to steal a university's priceless book collection. So since it really happened, that means the characters are real people. But where are the American Animals guys in 2018?
The four men in question are Warren Lipka, Spencer Reinhard, Chas Allen, and Eric Borsuk; all of whom were college-aged kids in Kentucky in 2004. They lived near, and some attended, Transylvania University, whose library is notable for housing some very rare and valuable books, with the crown jewels being John James Audubon's Birds of America and a first edition of Charles Darwin's On the Origin of Species. Using movies for their inspiration, the four men — teenagers at the time — hatched a plan to steal the books. They set up an appointment with the librarian who oversaw the collection, Jean "B.J." Gooch, to view the books using false identities, then showed up to their appointment dressed as old men. Once inside the rare books room, they tased and tied up Gooch before making off with several books in what would later be known as the Transy Book Heist.
After plans to have the stolen books appraised by Christie's in New York and then sold to a black market buyer in Amsterdam didn't work out, the men were left with no choice but to wait to get caught. And after several months, that's exactly what happened, as all four were arrested in Feb. 2005. They all pleaded guilty to six federal crimes, including theft of cultural artifacts from a public museum, and were all sentenced to seven year prison sentences, which they began serving in early 2006, according to Vanity Fair.
Today, all four men are out of prison and have been for several years. Not only that, but they all seem to be going quite well for themselves. Lipka is a "writer, storyteller, and prison reform advocate," according to his Twitter account. He lives in Philadelphia and recently participated in a Q&A screening of the film alongside Allen. As for Allen, he's a writer as well. While still in prison, he authored the memoir Mr. Pink: The Inside Story of the Transylvania Book Heist., and recently penned the autobiographical book Evolution: Becoming a Criminal. He also teaches writing workshops, offers personal training services, and is a public speaker, according to his website. He lives in the Los Angeles area.
Borsuk also lives in L.A., according to his Twitter account. And surprise, surprise, he's an author, too, having written the book American Animals: A Memoir. He also wrote an article for Vice in 2015 that was critical of halfway houses, suggesting that Lipka isn't the only one among the group who's concerned with criminal justice reform. Then there's Reinhard, who is now an acclaimed artist. He has his own website showcasing his works, which include a series of inmate portraits he completed while incarcerated titled "Birds of Paradise." The series looks to shed light on the United States' uncommonly high percentage of imprisoned citizens. He also was recently commissioned to paint a poster for the movie American Animals, seen below.
Although the four men don't really hang out anymore, they do appear together in American Animals — alongside the real life Gooch — as they help to narrate the story. Their inclusion in the movie, along with their current varied career success, shows just how far the still young men have come after their ambitious robbery just 14 years ago.