Hurricane Irma Is Getting Closer To The Caribbean's Leeward Islands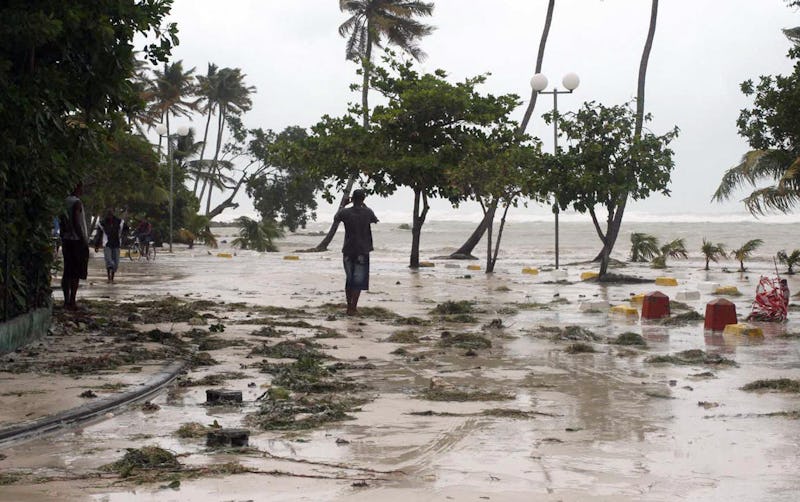 AFP/AFP/Getty Images
Hurricane Irma is rapidly approaching the Leeward Islands, possibly reaching the island chain on late Tuesday night or early Wednesday morning. As widespread reports indicate that the islands will likely be the first to be affected by Irma, many are probably wondering where the Leeward Islands are located.
The Leeward Islands are a chain of islands at the northeast end of the Caribbean Sea. They form the northeast boundary between the sea and the Atlantic Ocean. The group of islands includes the following territories: the U.S. Virgin Islands, the British Virgin Islands, Anguilla, Saint Martin, Saint-Barthelemy, Saba, Sint Eustatius, Saint Kitts, Nevis, Barbuda, Antiqua, Redonda, Montserrat, and Guadeloupe.
The islands have linkages to the United States and several European countries, as some of them are territories or departments of these countries, while others are independent states. The Leeward Islands are named after their location in relation to the northern trade winds (the islands are located in what is known as the "lee" of the wind).
The National Hurricane Center (NHC) reports that Hurricane Irma will likely pass over the northern Leeward Islands on Tuesday night or Wednesday morning. The storm is categorized as a Category 4 hurricane and is expected to have maximum sustained winds of around 145 miles per hour.
Among the islands so far, a hurricane warning is in effect for Antigua, Barbuda, Anguilla, Montserrat, St Kitts and Nevis, Saba, Saint Martin, Saint-Barthalemny, the British Virgin Islands, and the U.S. Virgin Islands. Guadeloupe is currently under a hurricane watch.
The National Hurricane center warns that the storm could have substantial effects on the islands, including severe weather conditions, dangerous waves, rising tides, and water accumulation.
As reported by the Jamaica Observer, the NHC believes that the impact of Irma could be felt for days across the islands, with hurricane conditions arriving first, followed by tropical storm conditions as Irma continues to move over the Leeward Islands.
The Center noted that Irma is expected to cause total rainfall accumulation of three to six inches across the Leeward Islands, with some areas in the northern Leeward islands receiving up to ten inches of rain.
The NHC also revealed that excessive rainfall and rising waters from Irma could cause very serious problems, noting,
These rainfall amounts may cause life-threatening flash floods and mudslides. Swells generated by Irma will affect the northern Leeward Islands during the next several days.
Hopefully, for the sake of the islands' residents, the impact of the storm will be minimal and the islands can weather the storm without much damage.