10 Things To Do To Celebrate Trans Day Of Visibility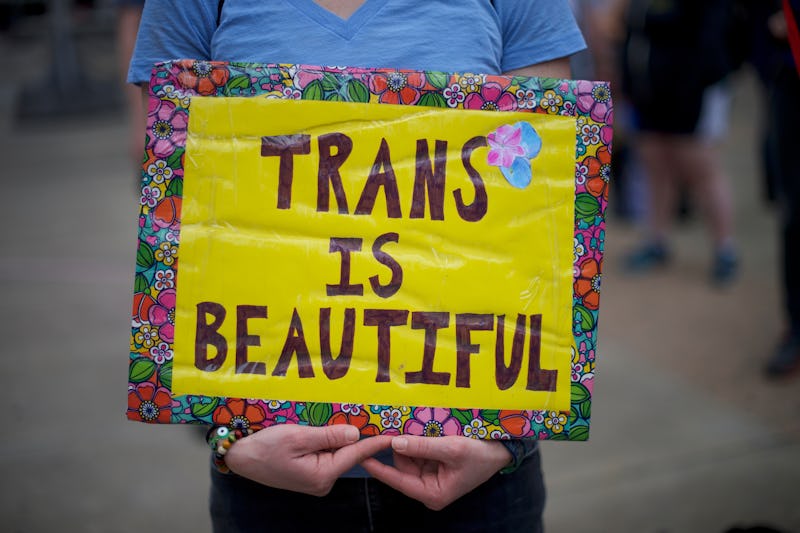 Mark Makela/Getty Images News/Getty Images
March 31 is International Transgender Day of Visibility, a day to "bring attention to the accomplishments of trans people around the globe while fighting cissexism and transphobia by spreading knowledge of the trans community," according to Trans Student Educational Resources. These events to attend on Transgender Day of Visibility 2018 encourage you to engage in discussions, take action, and celebrate the transgender community. The organization noted that their 2018 theme is "surviving, thriving" (#TransThriving), and they're hosting a Facebook event for people to connect with each other during TDOV 2018.
"We are not only surviving the Trump regime but we are making strides to transform how people think about gender around the world," Trans Student Educational Resources explained on its Facebook event page. "In the increasingly transphobic global political climate, we must use our newfound visibility to mobilize trans people against oppression. Speaking out, taking direct action, and educating others is critical to our safety and wellbeing. This recognizes that while visibility is important, we must take action against transphobia. Visibility is not enough alone to bring transgender liberation. However, we can use visibility as a vital tool for transgender justice."
If you want to get involved, consider attending one of these events in support of Transgender Day of Visibility 2018.