Here's How To See The Flower Moon Of 2017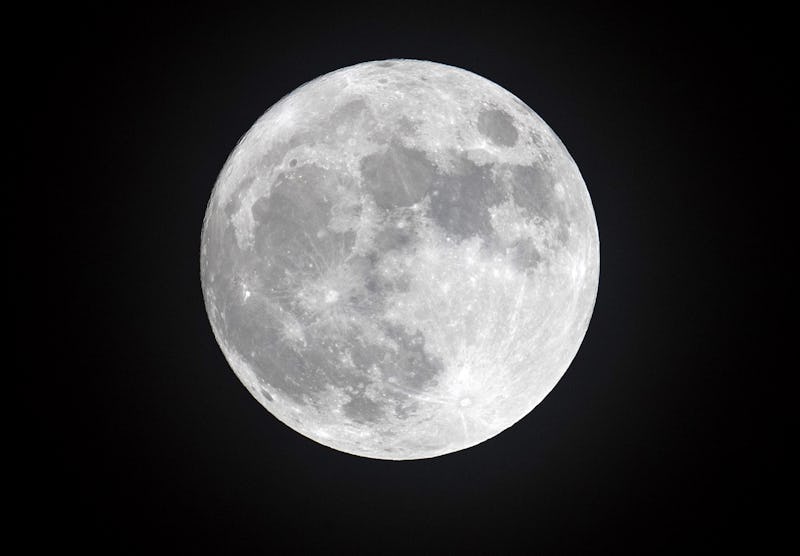 Matt Cardy/Getty Images News/Getty Images
Astronomy lovers are in for a treat very soon. May marks the emergence of the Flower Moon, aka the second full moon of the spring season. So when and where can you watch the Flower Moon of 2017? Here's what you need to know to catch a glimpse of the celestial sight.
First, a little background: like other full moons, the Flower Moon gets its name from the time of year it occurs in. May is known as a time of abundance and fertility, when temperatures are warming and plants are blooming all across the Northern Hemisphere.
According to the Old Farmers Almanac, Native Americans used this method of naming to help them keep track of seasons and determine the best time for planting crops. May's Flower Moon can also be known as the Mother's Moon, the Corn Planting Moon, and the Milk Moon.
So when and where can you see the Flower Moon? The moon will reportedly reach peak fullness on May 10 at 5:42 p.m. ET. If you're on the West Coast, this will occur earlier, at around 2:42 p.m on the same date. Though the full moon will actually only last a brief period that night, the moon will appear full or close to full for several days before and after May 10, from about May 8 to May 12.
If you want to track the phases of the Flower Moon (or any other month's moon) in your particular city, you can check out this handy calendar from The Old Farmer's Almanac. You can also double-check when the Flower Moon will rise and set on May 10 by entering your location on this Moonrise and Moonset Calculator on the day of.
Happy stargazing, everybody!